Coding has become an important and relevant skill for kids today. Whether you want to help your child become a computer programmer or simply expand their computer science knowledge, you probably know there any many benefits to coding for kids. While the benefits are exciting, learning how to actually code may seem like more of a chore to kids than a great opportunity.
That's where coding games come in. In our coding classes for kids, our philosophy is to help kids learn to code in a fun way. Kids play and build games in every class which keeps them engaged and learning.
To get your child excited about coding, we've put together a list of the best coding games for kids. These games teach programming skills and make it fun too. They're organized by grade and age level, so your child is sure to find the perfect game for them.
Best Coding Games for Kids in Preschool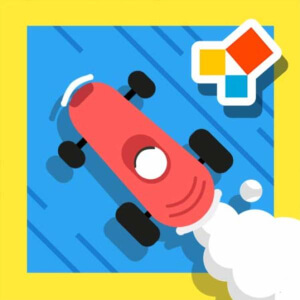 Platforms: iOS, Android
Pricing: Free
Ages: 4+
Best Because: Code Karts introduces coding concepts to young children through the use of logical puzzles in the form of a fun racetrack. With over 70 different levels and two different game modes, kids will have no shortage of entertainment or variety when it comes to this app.
The objective of this coding game is to use directional bricks to get their race car to the finish line, providing a stimulating coding environment.
Code Karts also comes in more than 20 different languages, bringing the fun to a wide audience, and young children will easily learn the fundamentals of code as well as directions and logic.
Best Because: CodeMonkey Jr. is a block-based coding game for kids in Pre-K and Kindergarten. Drag and drop coding is perfect for kids at this age to learn the basics of programming. In this game, they'll join a monkey on a mission to collect bananas in a world of fun colors and characters. Kids can start with no experience, they don't even need to know their ABC's. The challenges progress as they learn about logic, loops, sequencing, algorithms, and more!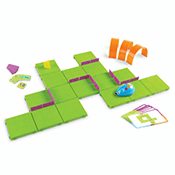 Platforms: Board game
Pricing: $59.99
Ages: 4+
Best Because: Code & Go Robot Mouse Activity Set is a screen-free way to teach foundational coding skills to even the youngest of programmers. It includes double-sided coding cards, a Programmable Robot Mouse, cheese wedge, and a special Activity Guide that allows kids to create endless maze paths for their mouse.
Once their specific maze is created, kids set up the coding cards to instruct their mouse where to go. The mouse can even light up, make sounds, and features two different speeds, keeping the game interactive and engaging.
Recommended: Ultimate Guide to JavaScript Game Development
Best Because: The Bee Bot app was designed specifically to help young children grow their programming skills and sequencing abilities through the use of a fun and interactive game. Based on the lovable floor robot, the app features 12 different levels which progressively get harder as the user advances. Each level is timed and gives exciting rewards, providing incentives for even the youngest of coders.
Kids can also enhance their directional language as Bee Bot moves forwards, backwards, left, and right. Set in a relaxing garden setting, this will be the perfect game for young ones ages four and up.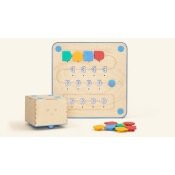 Platforms: Wooden robot
Pricing: $225
Ages: 3-9
Best Because: In a world full of technology and screens, finding a game that is free of these yet still teaches your child the basics of coding may seem like an impossible task. That's where Cubetto stands apart. Cubetto is a friendly wooden robot that teaches children the basics of computer programming through a real-world, tangible object.
Through adventure and hands-on play, Cubetto allows kids to manipulate and touch its blocks in order to tell the robot where to go. It can also be used with special books and maps, providing a positive and all-encompassing experience without the need for an app or device.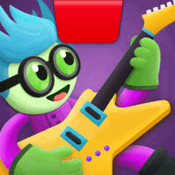 Platforms: iOS + board game
Pricing: $60
Ages: 5-12
Best Because: There is no shortage of research that proves music is beneficial for a child's development. Combine that with the advantages of programming and you are sure to have a unique and positive game on your hands.
Osmo Coding Jam is an engaging board game that connects to an iOS app and allows kids to create their own music with hands-on coding blocks. By being able to physically change the coding blocks on the board game, even the youngest coders are learning how to sequence and problem solve. Through the use of music, kids can also develop rhythm, melody, and harmony.
Recommended: Python for Kids
Best Coding Games for Kids in Kindergarten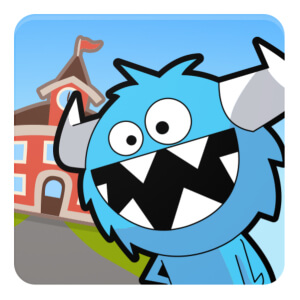 Platforms: iOS/Android/ Kindle Fire/ Windows
Pricing: Free Trial, $15/mo
Ages: 5-9
Best Because: CodeSpark Academy is an award-winning app that has introduced the concepts of coding to over 20 million children in more than 200 different countries. Using a "no words" interface, this app teaches all of the fundamentals of computer programming for kids through puzzles, games, printables, and even projects, bringing the fun from the screen to life.
With personalized daily activities based on your child's progress, engaging curriculum developed by research from MIT, Princeton, and Carnegie Mellon, and new subscription app content every month, your child will have a hard time putting this one down.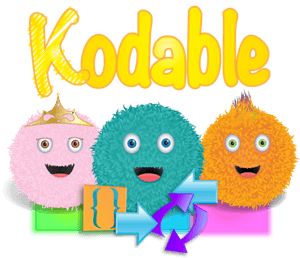 Platforms: Browser, iOS
Pricing: Free Trial ($9.99/mo)
Ages: 4-10
Best Because: Kodable is an online resource utilized by parents and educators all over the globe. The lessons combine both on-screen and off-screen components. Kodable breaks down computer science topics into basic concepts that kids can use for life including JavaScript and robotics.
Through interactive games, your child can foster a love of learning, and through carefully crafted standards, you can ensure their fun will help them be prepared for higher educational concepts. It also connects with an app that has custom-built games.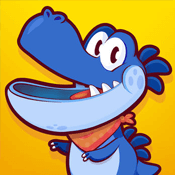 Platforms: PC, Mac, iOS, Android, Steam
Pricing: $8.99
Ages: 6-10
Best Because: Cork the Volcano teaches kids to code through programming puzzlets. Set up sequences of actions for the characters to reach the Puzzlet Piece, collect raindrops along the way for bonuses, and avoid dangers from the island along the way through this programming puzzle platformer. Kids can practice computational and algorithmic thinking with each challenge. They'll learn to come up with logical steps and strategies to win the game.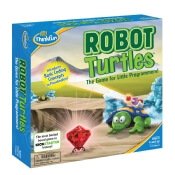 Platforms: Board game
Pricing: $24.99
Ages: 4+
Best Because: Robot Turtles is a STEM board game for preschoolers. While providing a fun and engaging hands-on game for them to play, your kids will feel in control and get to learn all of the basic concepts of programming at the same time. Through simple commands that are used to program the Robot Turtle, your little one will learn what it means to write code, debug, and use basic functions. As they play, they unlock new challenges, giving the game new life and growing with them. It's a time for the whole family to be silly and play together, spending meaningful time away from the screen.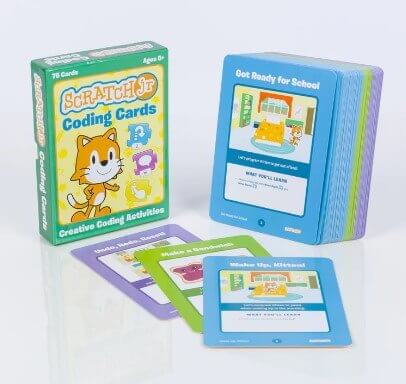 Platforms: Card Game
Pricing: $18.50
Ages: 5-9
Best Because: ScratchJr Coding cards are an easy and fun way to introduce young kids to programming concepts and the Scratch language. It gives step-by-step instructions on how to use the programming blocks. They can create their own games, stories, and animations as they work through each card in ScratchJr. This collection of coding activity cards is perfect for working one-on-one with your child or sharing among small groups.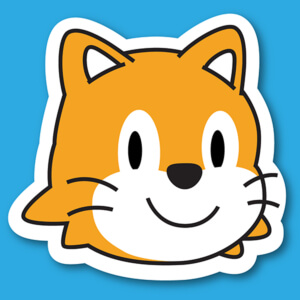 Platforms: iOS/Android/Kindle Fire/ Chromebook
Pricing: Free
Ages: 5-7
Best Because: Scratch, Jr. teaches young children important new skills as they begin to program their own interactive games and stories. This novice version of Scratch allows younger children to snap together programming blocks in order to make their characters move, jump, sing, and dance.This app was designed by leading experts to better fit younger children's cognitive, personal, social, and emotional development, so you can feel confident it is appropriate for your little one.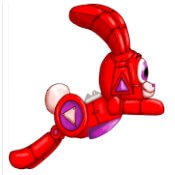 Platforms: Board game
Pricing: $34.85
Ages: 4+
Best Because: Designed and created by a 9-year-old, CoderBunnyz is a unique board game that teaches a range of coding topics. It's a highly interactive way to introduce coding, with 13 levels of kinesthetic learning that grows with your child and their skill levels.
The game involves programming robot bunny game tokens with code cards. The goal is to eat the carrot and reach the destination before others do! CoderBunnyz covers a variety of basic and advanced programming concepts, including sequencing, looping, functions, branches, debugging, and inheritance.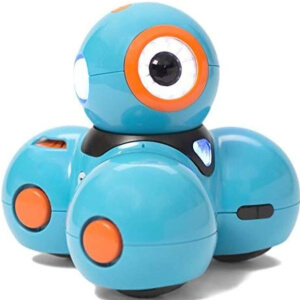 Platforms: Robot and app
Pricing: $179.99
Ages: 6+
Best Because: Dash Robot is a real robot that is charged and ready to play with right out of the box. Through the use of a connected app, your child is able to help Dash perform new behaviors, like dancing and singing, as well as move and navigate around objects. What makes Dash stand out from other games is that there are multiple apps available that align with various age groups, learning levels, and play styles. You can tailor the program to your specific child's needs, giving them fun that is made for them.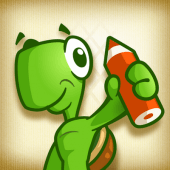 Platforms: iOS
Pricing: 3.99
Ages: 5+
Best Because: Move The Turtle is an educational app for the iPhone and iPad that teaches children the basics of creating computer programs through the use of a friendly Turtle.
By completing tasks, your child will learn how to plan complex activities made of simple elements, how to reuse previously completed work, and how to use graphics and sound within programming. Your child will also become familiar with the concepts of loops, procedures, variables, and conditional instructions while playing an engaging and interactive game.
Recommended: How to Make a Game on Scratch
Best Coding Games for Kids in Elementary School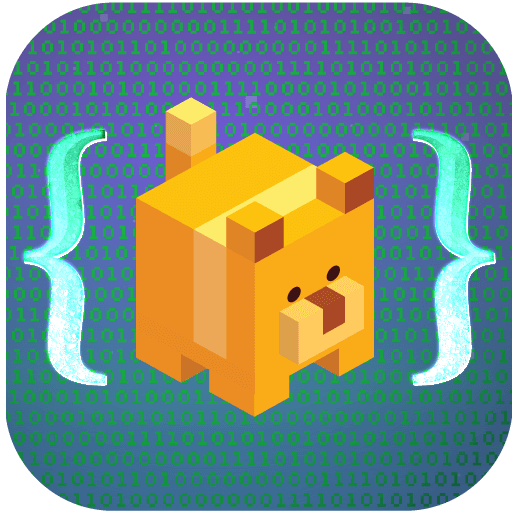 Platforms: Android
Pricing: Free
Ages: All ages
Best Because: Algorithm city teaches the basics of programming and algorithms. It has a fun, simple interface that young students can easily navigate. Using symbols, kids code functions that guide their character. Kkids learn command sequencing, functions and loops, by guiding the character by collecting golds and solving levels.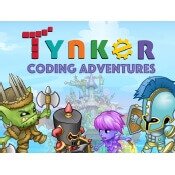 Platforms: iOS/Android/Chromebook
Pricing: Free
Ages: 5+
Best Because: Winner of a large variety of awards, including Parents' Choice Gold Award for coding games for kids, Tynker is an interactive game that makes programming accessible and fun for kids, regardless of their prior experience with the content. Using intuitive visual blocks to create games, kids have the ability to also write interactive stories, modify Minecraft, program drones, and explore other STEM topics.
Tynker also can be played offline without internet connectivity, and with your permission, your child could share their creations with the Tynker community and explore projects made by other kids, as well.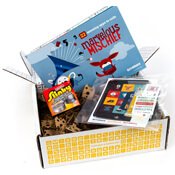 Platforms: Subscription box
Pricing: $16.95 per month
Ages: 6-12
Best Because: BitsBox stands apart from the other games on the list as it is a monthly subscription box that includes unique materials on different computer science topics. Each month, your child receives a box that contains various coding projects, ranging from simple to advanced. With the materials, they type the given code into the connected app and then revise it to make it their own.
The apps and materials change each month, so there is always something new and exciting. BitsBox runs on any computer, phone, or tablet with a web browser.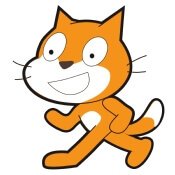 Platforms: Browser, Windows, Mac, Android
Pricing: Free
Ages: 8-16
Best Because: Designed by educators at MIT, Scratch is based on a programming language and an online community where children can learn the basics of coding as well as move on to more advanced topics and concepts.
Through the use of interactive games, stories, and animations, children are able to not only enhance their skills for programming, but they are also increasing their creativity, reasoning skills, and learning how to successfully collaborate on projects- all essential skills for 21st-century workers.
Recommended: Scratch Games for Kids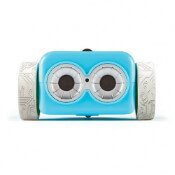 Platforms: Robot
Pricing: $74.99
Ages: 5-8
Best Because: Brought to you from educational leader Learning Resources, Botley is an interactive robot that introduces coding to young kids in a friendly, easy, and fun way. Without requiring a computer or tablet, children are able to program Botley for up to 80 steps, including more advanced programming commands like looping.
With advanced features and steps as well, Botley can grow with your child, becoming more challenging as it goes. Botley also includes black line follow mode where users can draw a line with any type of marker and he will follow along the path.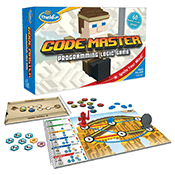 Platforms: Board Game
Pricing: $22.99
Ages: 8+
Best Because: Code Master is a programming logic game that teaches kids the basics of coding- all without a computer! In the game, the player gets an Avatar that they have to navigate around the board.
The goal of the game is to help the Avatar travel around the exotic world in search of power Crystals, leading them to collect them all and land at the Portal. Code Master features 60 different levels, so the fun is never the same! It teaches programming basics as well as planning, sequential reasoning, and problem-solving skills.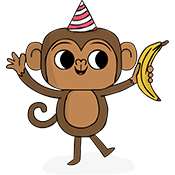 Platforms: Browser
Pricing: Free Trial ($6 / mo )
Ages: 5-14
Best Because: Originally designed as a classroom resource for teachers, CodeMonkey has expanded beyond the school walls and is available for anyone looking to learn coding skills.
Although you may be using it at home, CodeMonkey provides various insights for you that will help you monitor your child's progress as well as assess their learning, even if you are completely unfamiliar with computer science. Another benefit? Learning how to code not only teaches children about IT, but it also nurtures logic, critical thinking, creativity, and problem-solving skills needed to be successful now and in the future.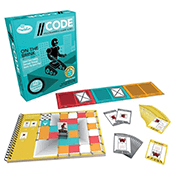 Platforms: Board game
Pricing: $19.99
Ages: 8+
Best Because: On the Brink is part of a series of games that were designed to help kids build all of the skills necessary to be successful coders and understand even more advanced programming concepts down the line. Without the use of a screen, kids will be able to guide their robot along a path from start to finish, programming "procedures" which help it move along colored paths.
There are 40 different challenges that kids will come across, and their goal is to find the correct sequence of moves for each colored path. The board game teaches a variety of skills, including sequencing, problem-solving, and planning.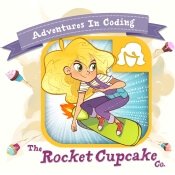 Platforms: iOS
Pricing: Free
Ages: 4+
Best Because: Recognized with The Toy Industry Association's Toy of the Year and Apple's iOS App of the Year awards, Goldieblox is shaking up the industry and challenging gender stereotypes with the world's first girl engineer character. In this game, Goldie and her friend Ruby are trying to deliver cupcakes, but they need help getting directions for where to go.
Kids will have a blast programming the characters throughout town, and will learn all the basics of coding in the process. This game is inspiring for girls and shows them they truly can be anything they dream.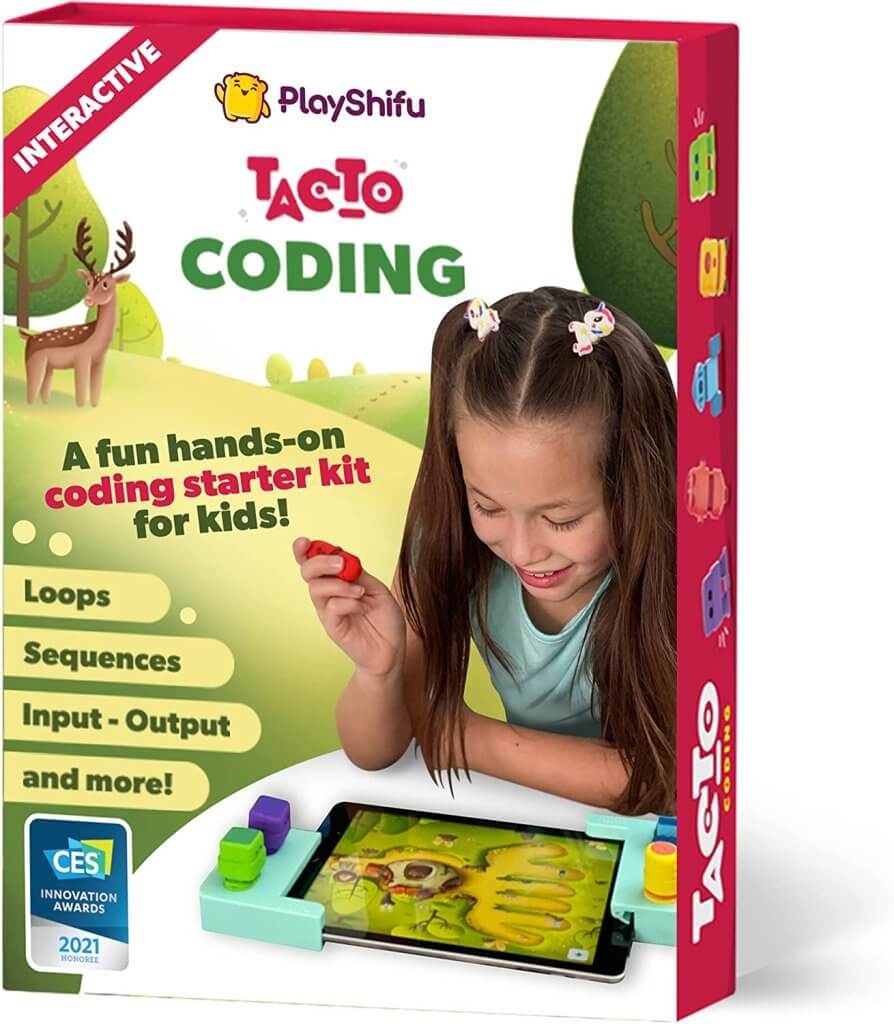 Platform: Android, iOS, Amazon Fire
Price: $49.99
Ages: 4-10
Best Because: The TacoTo coding kit for young learners does more than direction-based coding. It teaches fundamental concepts of coding – inputs-output, loops, sequencing, decomposition, and branching. The kit comes with a silicone attachment and figurines that combine tactile play with programming in the app. As kids move their characters, they follow along on screen. There are over 200 levels of games, stories, and adventures that kids can try.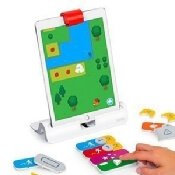 Platforms: iOS, Fire tablet + game system
Pricing: $79.99
Ages: 5-10
Best Because: Winner of both the Parent's Choice Gold Award and the Oppenheim Best Toy Platinum Award, Osmo Coding is a hands-on game that connects the screen to real-life coding blocks. Through the use of the interactive gaming system, children can put their iPad in the Osmo base which senses what is placed in front of it.
They then use the coding blocks to map out commands, bringing the playful characters in the app on a fun adventure. Teaching logic and problem-solving skills as well as programming, Osmo Coding is an easy and engaging way to learn the basics.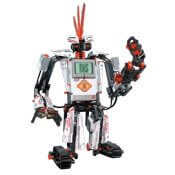 Platforms: iOS, Android
Pricing: Free
Ages: 7+
Best Because: Brought to you by the entertainment and toy giant, LEGO Mindstorms: Fix the Factory is an addictive puzzle game full of unexpected obstacles and unique challenges, pushing kids to expand their logical thinking skills, spatial intelligence, and their robot commanding skills.
Faced with the task of helping a robot make its way through a factory, your child will learn all of the basics of how programming works while trying to beat the clock. There are also incentives for completing the mission with the highest score, making it an exciting game more than an educational tool.
Best Coding Games for Kids in Middle School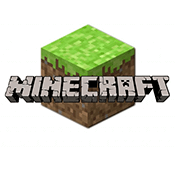 Platforms: PC, Android, iOS, Xbox, Nintendo Switch, Nintendo Wii, PlayStation, Wii, Amazon Fire, Oculus
Pricing: $6.99 (Android & iOS), $29.99 (PC and Mac)
Ages: 10+
Best Because: Minecraft is one of the most popular programming games for kids out there, with currently over 100 million registered users. At its core, Minecraft is a game about placing blocks to make objects and going on adventures. But in reality, it is so much more than that.
Although the game's visuals may look dated to us adults, children are drawn to its simple looks and unique graphics.
The beauty of Minecraft is that it truly gives children the freedom to create and explore almost limitlessly, while also giving them missions and goals, inspiring their problem-solving, creativity, and logical thinking at the same time.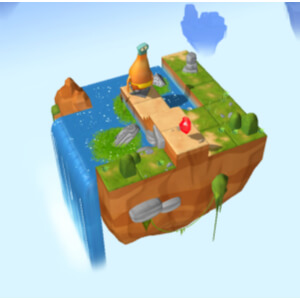 Platforms: iOS
Pricing: Free
Ages: 11+
Best Because: Swift Playgrounds is an innovative game for the iPad that helps children learn and experiment with code through interactive puzzles. Based on the powerful programming language created by Apple and used by most professionals to create mobile applications, Swift Playgrounds provides a platform for experimentation and creativity while teaching the basic definitions, terms, functions, and directions of coding.
Players can use their own photos, images, sounds, and files within the program to make it uniquely theirs, while new coding challenges are regularly released to keep it evolving and changing.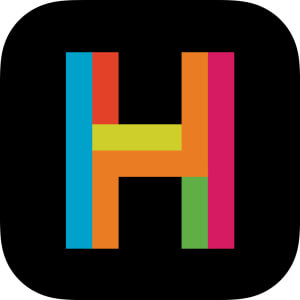 Platforms: iOS
Pricing: Free
Ages: 9-15
Best Because: With over 10 million downloads and more than 26 million games created and counting, Hopscotch is a platform for kids to explore projects and learn how to code and make their own games. Users also have the ability to access other people's projects and play, tweak, or remix it, providing inspiration and collaboration through Hopscotch's fully moderated community.
The app also has detailed video tutorials that teach them how to make popular games, increasing in difficulty as they become a better programmer.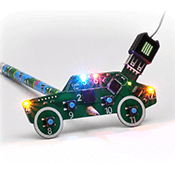 Platforms: Mac, Windows
Pricing: $49.99
Ages: 8-12
Best Because: Shaped like a car, Code Car is actually a computer that allows kids to program and control it. Whether it be turning on the headlights and taillights, or sounding the siren and brakes, all functions of the car can be programmed to perform in a certain way.
There is even a speaker in the middle of the car that can be coded to play horn sounds, car alarms, or ice cream truck songs. As these tasks are added to the Code Car, kids will be learning the real, typed coding language C++. The kit connects to a simple coding editor which works on Mac, Windows, or Chromebook.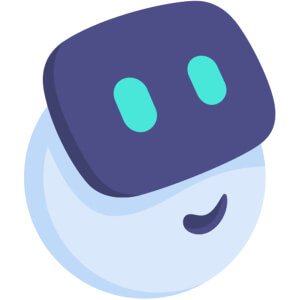 Platforms: Android, iOS
Pricing: Free
Ages: 11+
Best Because: Mimo is a convenient platform that provides bite-sized coding lessons, projects, and challenges in an engaging and interesting way. With Mimo, your child can learn to code, build websites, automate tasks, make apps, and more.
With daily goals, streaks, and achievement badges, kids will feel like they are playing a game more than taking an educational lesson. Mimo also features continuous extensions and updates, giving it a fresh face as your child progresses.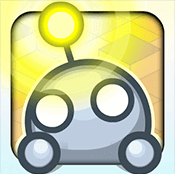 Platforms: iOS, Android, Kindle Fire
Pricing: $2.99 (iOS/Android)
Ages: All ages
Best Because: Featured by Apple in over 100 countries and winner of multiple awards, Lightbot is an exciting game that gets kids hooked on coding within minutes.
Categorized as a programming puzzle game, Lightbot requires the user to guide a robot to light up tiles and solve different levels using commands, all while cultivating a real understanding of basic programming concepts like procedures, loops, and conditionals. With 50 levels and 20 challenge stars to collect, kids will have a blast competing and learning in this game.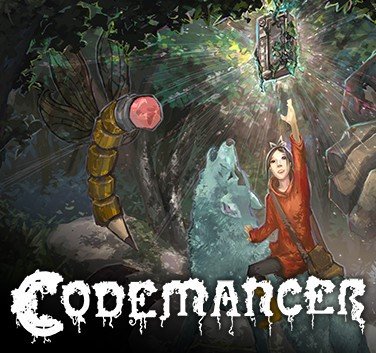 Platforms: Windows, Mac, Android, iPad, and Kindle
Pricing: Free
Ages: 6-12
Best Because: CodeMancer uses a fantasy theme to teach the magic of coding. Kids code their way through a world of sorcerers and their minions. While learning about loops, functions, algorithms, and debugging, kids solve ancient puzzles and explore the world of magic! Kids will never experience syntax errors and they don't have to read to play. This game has over 50 levels to keep the learning going.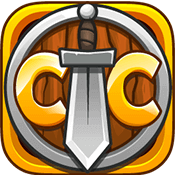 Platforms: Browser
Pricing: Free
Ages: 9+
Best Because: Built for high school students, CodeCombat is a platform for students to learn computer science and programming skills while playing through a stimulating and real game. It's an excellent coding game for kids and parents alike who have little to no coding experience, providing a medium that rewards productive struggle which results in successful learning.
Proven as a gaming challenge that encourages interaction, discovery, and trial-and-error, teens are sure to have hours of fun while figuring this one out.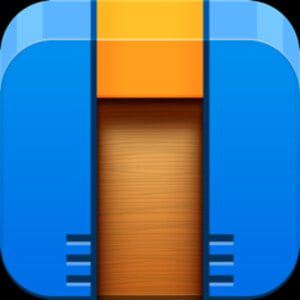 Platforms: iPad
Pricing: Free
Ages: 9-11
Best Because: This puzzle app requires teens to "be logical." The game features a programmable robot and 36 puzzles. Teens must program the robot to move crates within each puzzle, with the puzzles ranging from easy to difficult. By playing the game, teens learn how to approach problems in order to solve them quickly and efficiently.
Recommended: Python Games Development for Kids
Best Coding Games for Teens (High School & Up)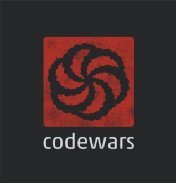 Platform: Browser
Pricing: Free
Ages: 14+
Best Because: CodeWars uses the idea of small coding exercises called "kata". Each kata is crafted by the community to help you strengthen different coding skills. Kids can master a current language of choice, or learn any of the 55+ programming languages supported.You can earn ranks and honors to level up and be seen on the leaderboards. It's a great way to see new coding perspectives, learn new language, and challenge your peers.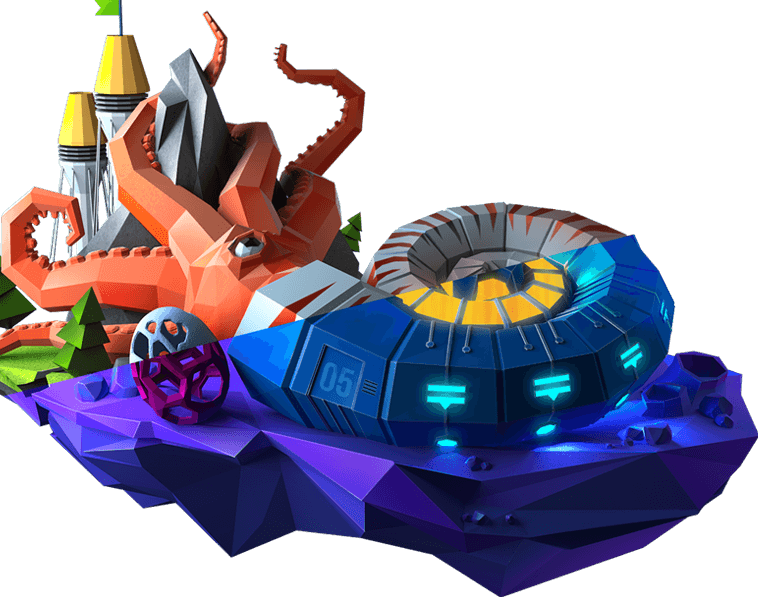 Platforms: Browser
Pricing: Free
Ages: 14+
Best Because: CheckiO games for beginners and advanced programmers where you can improve your coding skills by solving engaging challenges and fun task using Python and TypeScript. This game is played in the browser and organically integrates coding and learning as you complete missions. You can learn from other developers by seeing clear solutions to the same problem. This game does require solid reading and typing skills, so I recommend it for older students.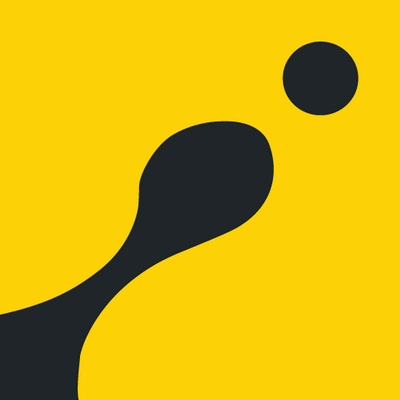 Platforms: Browser
Pricing: Free
Ages: 14+
Best Because: CodinGame is a great place to practice, but doesn't provide any tutorial to learn the basics of programming from scratch. You can play with friends or compete internally. Practice and learn coding by solving fun challenges in 25+ languages addressing all the hot programming topics. CodinGame also has recruiters to help users find a job and practice programming interviews. This is great for older students who are interested in an internship or career in coding.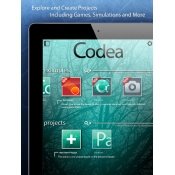 Platforms: iOS
Pricing: Free
Ages: 14+
Best Because: Codea is a code editor that allows you to create games and engaging simulations, turning your thoughts into interactive creations. Designed to teach coding for teens and older students, Codea is a visual code editor that actually lets one touch the code to alter or edit it.
Built on the Lua programming language, kids can type their code, press play to watch it run, then interact with it to see what happens, including changing the colors, adding images, and adjusting the sounds. Codea also allows sharing code across the community, so they can see other kids' projects and explore or get inspired by them.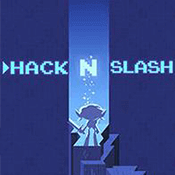 Platforms: iOS
Pricing: 3.99
Ages: 14+
Best Because: This fun coding game combines programming and puzzles, all set within an engaging story. A wizard, presumably evil, has ordered everyone to stay in the village. Teens act as the villagers in the game, looking for ways to escape and overcome the wizard by reprogramming objects, changing story variables and creature behaviors, and rewriting the game's code.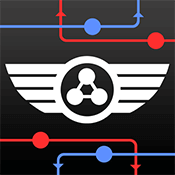 Platforms: Windows, Mac, Linux, Steam
Pricing: $9.99
Ages: 14+
Best Because: In this game, students act as a reactor engineer for SpaceChem, "the leading chemical synthesizer for frontier colonies." This coding game employs puzzles and programming with an exciting story. The challenges vary, from constructing functional laboratories to meeting production quotas—all while surviving encounters with the "things" that haunt the SpaceChem facility.
Recommended: Coding for Kids, Free Resources
Kids Can Start Programming Games at Any Age
No matter what age your child or student is, coding is a skill that will benefit kids for the rest of their lives. Kids can even build and code their own games in our 12-week online coding classes. We teach coding for elementary school (grades 3-5), middle (grades 6-8), and high school (grades 9-12) students and no experience is necessary. In the summer, take an accelerated version of our classes in 3-week summer coding classes. Kids learn to code fun games and projects in every class using real-world languages like Python, JavaScript, and more!
By introducing and practicing coding concepts through entertaining games, kids will view learning as a treat instead of homework. With our list of top coding games for kids, your young engineer is on his or her way to a lifetime of learning.