For a lot of kids, the idea of eventually being able to build their own video game sounds like a dream come true. Learning to code a game is an awesome goal, but it is hard to know where to start. With so many different coding languages and development platforms, learning the basics of game development can seem intimidating, but it doesn't have to be.
There's a way to make game development easy. Kids and professional developers alike have gotten their start with a simple drag and drop, using Scratch. If you're a beginner who's not familiar with writing code, build a Scratch game as a fun and easy way to start coding games.
What is a Scratch Game?
At this point, you're probably wondering "Just what is a Scratch game?" That's simple!
A Scratch game is any game that is built using the Scratch platform, created by MIT in order to help kids get started with coding. Scratch is a super flexible block-based programming language that allows kids to code in an easy-to-use drag-and-drop interface.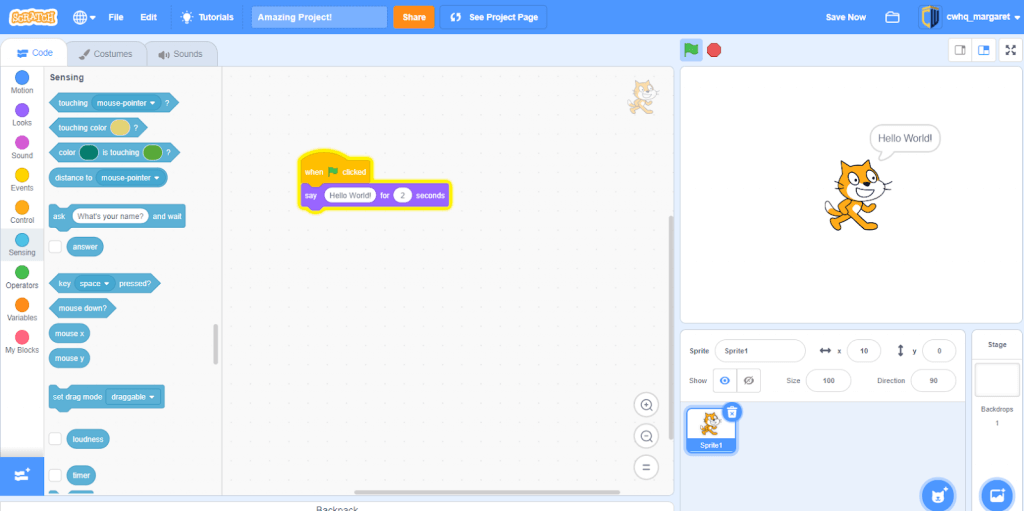 Essentially, bits of code are embedded in pre-made blocks. These blocks fit together in any number of ways to build a program or game. Scratch uses real code to make programs do what you want, but simplifies the process for coders who are just getting started.
The simplest blocks do little more than move pictures across a screen, but those blocks of code can be combined to allow for a game with player interaction. You can keep adding blocks and the game gets more complex, but the system used to build it stays just as simple. With a little time and perseverance, anybody can create awesome Scratch games to play with their friends!
Recommended: Scratch Coding: Benefits, Tips, and Resources
Types of Scratch Games for Kids
Before we go into how to make Scratch games we should talk a bit about the different types of games that you can code in Scratch. Each kind of game has its own mechanics that make it distinct, but many games combine elements from multiple games to add to the fun!
How to make a game in Scratch
Creating a Scratch game can be fun and super rewarding, but especially when you're just starting out it can be hard to know where to start. Don't worry! We're here to help.
The basic steps of how to make a Scratch game are:
Decide on the mechanics of your game
Choose the visual design and theme
Add your sprites
Add code to each sprite using code blocks
Add game logic using code blocks
Test your game and share it with friends!
If you'd like more detail on how each step works and free game tutorials, check out our step-by-step guide on how to make a game on Scratch!
Recommended: Coding for Elementary School Students
Best Scratch Games for Kids
If you're still in need of some inspiration for what kind of game to build, it is a great idea to check out what others are doing. One of the best ways to find great examples of what can be done with Scratch is to look for the games that are popular.
Check out these popular options in the 25 best Scratch games!
Recommended: Free Coding Programs for Kids
Play Scratch Games for Kids
Build and then play! Take a look at these amazing examples of what can be made in Scratch. Afterwards, you can even take a look under the hood to see the underlying code by hitting the "See Inside" button at the top right of each page.
Recommended: Coding for Middle School Students
Easy Scratch Games for Kids
Need something a bit easier to start with? We've got you. Check out some of these easy-to-play games on Scratch! Make sure to take a look inside when you finish so you can see how it's done!
Free Scratch Game Tutorials
Scratch games and fun and easy for kids!
Coding games in Scratch is one of the easiest ways to jump into making your own games. The simple drag-and-drop interface, combined with the power of real code means that even beginners can build something really cool. Scratch is an amazing resource for learning to code and is easy for kids as young as 8 years old.
If you'd like to learn in a fun and interactive setting, CodeWizardsHQ coding classes for kids can help with that. We have live Scratch coding classes with teachers that will walk beside you to take you from a Scratch newb to a coding wizard. Start building your game and share your project with us!
Ready to level up your child's learning experience? Take a coding class with CodeWizardsHQ: