Today, almost anyone from an accountant to a zoologist can benefit from having a working knowledge of programming. Coding teaches kids to think creatively, reason systematically, and work collaboratively . Scratch coding for kids is one of the most fun and easiest ways to start learning.
Scratch is highly interactive and helps kids learn about computer science in a fun and accessible way. It also has a supportive community where students can share and remix projects and games.
What is Scratch Coding?
Scratch coding is writing and running programs in the Scratch platform. Scratch is a free block programming language and online community that allows kids to create programs and games using drag-and-drop.
MIT developed Scratch in 2007 as a visually-based coding language for kids ages 8 to 16. Coding in Scratch works by taking smaller snippets of code and grouping them into colorful blocks that can be snapped together to form longer, more complex codes. The more blocks that you use, the more complex the code becomes.
According to the creators, Scratch is and always will be free. There is no license required to use Scratch in your school or at home. It is a platform for kids coding that has helped literally millions of kids learn the basics of programming since it was first created. Create an account at Scratch.mit.edu to start coding in Scratch.
What is Block Coding?
Scratch uses block coding. Block coding turns programming into a drag-and-drop process by converting text-based code into visual blocks. Each block performs a different task, similar to a function in code languages. To write a program, kids combine blocks to create animations and games.
The advantage for kids and beginners is that syntax is taken out of the equation. This makes block coding much simpler and quicker.
What is Scratch coding used for?
Scratch coding is used to build interactive stories, games, apps, and animations. Children and beginners can use Scratch to learn how to code in a visual way. The platform and online community are a safe and playful learning environment that engages all children in thinking creatively, reasoning systematically, and working collaboratively.
It's also used as a teaching tool. At CodeWizardsHQ, elementary school students learn the basics of computational thinking with Scratch. Educators are integrating Scratch into their classroom curriculum and workshops. Scratch provides plans, activities, and strategies for introducing creative computing to students.
Scratch Coding Interface
The Scratch interface contains the area where the Scratch program exists. The coding interface is viewable from your browser after you log in to Scratch.
There are 4 distinct sections in Scratch with different functions:
Available Blocks – This is the list of coding blocks that you can use to create your program. Each Scratch block performs a task, similar to a block of code.
Scripts Area – This section starts off blank and is the coding area where you will add your blocks to create your program. Drag them from the Available Blocks section to here and connect them.
Stage – This shows the preview of your Scratch project. You can also drag or select elements in this section to move them.
Sprite List – Sprites are images in Scratch that can be programmed to move, respond to events, and interact with other sprites. You can view and add sprites in the Sprite List.
A major benefit of the Scratch platform is that you don't have to download any new software which makes Scratch very easy to set up and start coding.
Scratch Coding Blocks
Unlike text-based programming languages, like JavaScript and Python, Scratch uses drag-and-drop code blocks. This is called block-based coding. This makes Scratch easy, even for young children, because it doesn't require typing skills or syntax knowledge. These are some of the most common coding blocks in beginner Scratch programs and what they do.
Event Blocks
In most cases, the event blocks are the ones that begin each sequence of code. Their job is to wait for a specific event to happen or send a message to other blocks so they can tell the code blocks below them to go!
Examples:


Motion blocks
These are the blocks that control the movement of the different sprites in your program. Any time you want a sprite to change its position on the screen, these are the blocks that you'll add.
Examples:


Looks Blocks
Looks blocks affect how sprites and backgrounds appear to the user. This is great for making sprites look like they are moving or for changing the scenery in animations.


Sound Blocks
Sound blocks are blocks that affect the audio playing instead of anything visual. You can choose specific sound files included on Scratch, upload your own files, or even record directly in the program if you like.


Control Blocks
Control blocks control when and how often other blocks get activated. They give you the ability to code loops, add in delays, and generally increase the amount of control you have over your code.


See more Scratch code examples.
Add Blocks With Scratch Extensions
There are additional blocks you can access in Scratch through various extensions.
The extensions extend the functionality of your program to connect with your camera, Google, LEGO WeDo, and more. For example, use Amazon Text to Speech to start a game using speech. This could be used to help visually impaired individuals play your game.
To add an extension, press the blue icon at the bottom-left of the screen under the block categories. This will open the Extensions Library. You can choose an extension and then it will show up in the block categories. You can drag these extension blocks into your program like any other block.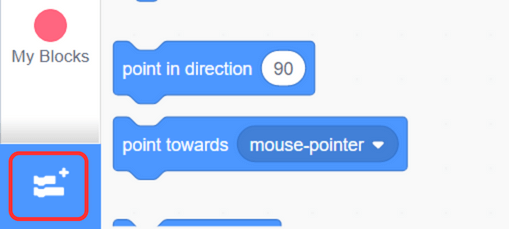 See the full list of scratch extensions.
Scratch Teaches Fundamental Coding Concepts
Variables
Loops
If-else statements
Conditions
Game development
Animation
& more!
Scratch itself is like a blank canvas for learning coding concepts. It's the place where kids can create their art, and where they can improve their skills through experimentation and practice. As kids explore what Scratch has to offer, they can learn a variety of different coding skills, from problem-solving to analytical thinking, that will grow with them on their coding journey beyond Scratch.
Basic Programming Concepts
A large part of working with any coding language is understanding the basic concepts that make coding work. Whether it's being able to think systematically about how the code will function, or diving deeper into how the different pieces of code interact with each other, coding will help kids to get a grip on the basics that support all kinds of coding languages.
Problem-Solving
The main purpose of all coding languages is problem-solving and Scratch coding is no different. It could be building a straightforward line of code to move a sprite across the screen or working through what they've already written in search of an elusive bug. Almost every step in Scratch programming involves learning to problem-solve in some way.
Project Design
Building lines of code to make something happen is one thing, but understanding how those lines of code should go together to make a cohesive whole is something else entirely. Coding on the Scratch platform can give kids the opportunity to think at a systems level as they work to perfect their project's design.
Benefits of Scratch Coding
Of course, a lot of these coding concepts are things that can be taught on a variety of platforms. After all, part of the draw of Scratch is that it has the same functionality as a lot of traditional coding languages. For example, you can find loops and variables in Scratch, just like you would in Python. So what makes Scratch coding such a good place to start?
Ease of Access
A large part of it is just how accessible Scratch is. It doesn't require any specialized programs to run, just a web browser and an account. And because Scratch uses block-based coding, it doesn't require nearly as much attention to detail as text-based languages. A misplaced block of code can still cause bugs, but it is a whole lot easier to find than a misplaced period!
It breaks coding into chunks that are more easily grasped so that kids can build up their understanding at the same time that they are actively building real code.
Productive Learning
Scratch makes it much easier to make a cohesive project than traditional text-based coding languages. That's actually a lot more important than you'd think!
Being able to hold up a project that they're proud of can be a huge motivational factor for kids, and Scratch makes this possible way earlier in the process than most coding languages. In large part, that's because of its visual nature.
Part of what's included in the Scratch platform is access to their library of sprites and backgrounds. It's part of what allows kids to dive in quickly and make a real finished project, and it's a feature that other coding languages often lack.
Scratch Tutorials and Activities
Kids can start coding right now with fun Scratch projects. Here are some great step-by-step tutorials and activities to try coding your own Scratch games and apps!
Flying Space Cat – code a fun collecting game to help Space Cat with its mission.
Rocket Landing Game – safely land your rocketship on the platform to win.
Valentine's Day Card Scratcher Activity – scratch off the card for a Valentine's message.
Halloween Candy Collector Game – collect as many Halloween treats as you can.
Holidays Advent Calendar – count down the days until Christmas.
Best Scratch Games
A large part of the learning process on Scratch comes from looking at the projects that others have made. Check out some of the best games on Scratch to get inspired!
Download Free Printable Scratch Coding Tutorials PDF
Get the Rocketship Landing game and Flying Space Cat Scratch tutorials in a printable format.
Ready to Learn Scratch Coding?
Of course, while Scratch makes it easy to learn through experimentation, it's always easier to learn if you have someone to guide you through the tricky bits. CodeWizardsHQ has some of the best Scratch coding classes for kids to help make the learning process both fun and effective.
Coding for elementary school students starts out with using Scratch and grows with your child as they level up their coding abilities. Check out our complete list of coding classes here!