There are few games out there with as enduring a legacy as Minecraft. Despite the game's low-graphics blocky look, Minecraft has been capturing the imagination of kids around the world since 2011 and become one of the most-loved games of all time. 
Which is exactly why Minecraft gifts are such a perfect choice for kids! 
Favorite Minecraft Gifts for Kids
As a game, Minecraft leans hard into creativity and personalization, and many of the gifts in this guide expand on those themes. This isn't just a list of Minecraft toys to play with (you can get that here), but rather a list of different kinds of gifts you can buy for Minecraft fans of all ages.
1. Minecraft Camp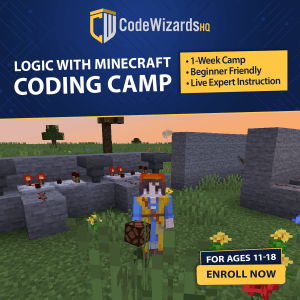 For ages 11 and up
A fun and practical gift, kids can join a 1-week Minecraft camp with CodeWizardsHQ. Intro to Redstone Logic in Minecraft introduces kids to redstone, an element used for mechanical and electrical programming in Minecraft. A great introduction to coding that will get kids excited to learn what else programming can do.
2. Minecraft Guide Collection 4-pack
For ages 7 and up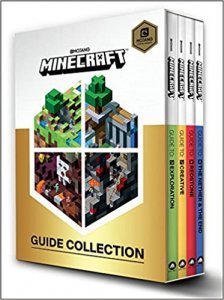 This Minecraft Guide Collection pack is a great gift for kids looking to improve their Minecraft game. Each of the four books is filled with tips and tricks to help your kid survive and thrive in the perilous world of Minecraft. Plus, they do a great job of scratching that Minecraft itch even during those times when your kid can't get online, making them a perfect companion for road trips!
3. Minecraft: The Island, Book or Audiobook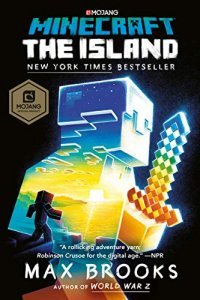 For ages 8-12
If your kids are looking for an amazing story set in the Minecraft world, this is the book you're looking for. It's the first of the official Minecraft novels, written by author Max Brooks (World War Z), and it is an excellent read!
I highly suggest getting the audiobook version narrated by Jack Black, as he absolutely kills it.
And while the recommended reading age is 8-12, don't let that scare you off. While there are some tense moments, my son loved the audiobook version at age 5 and I found it entertaining even as an adult.
4. 6-Inch Minecraft Llama Bookends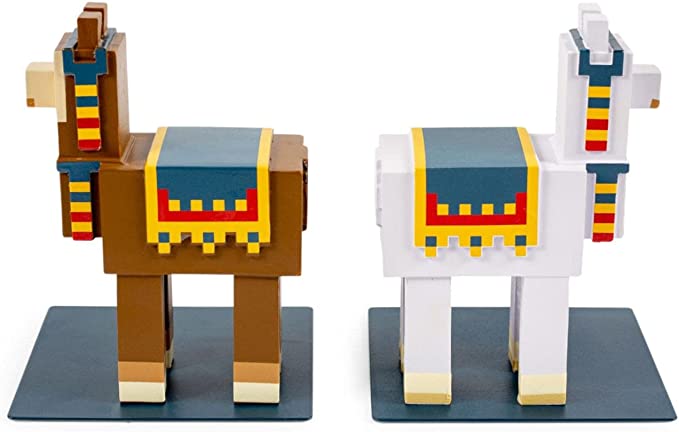 For ages 14 and up
Actually, there are a ton of Minecraft book options out there, and many of them are worth a look. But when it comes to keeping all of them organized and looking good, why not continue with the Minecraft theme?
These Minecraft Llama bookends are both super fun and functional and would look great in any Minecraft fan's room.
5. The End Battle Lego Set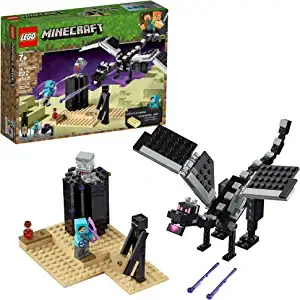 For ages 7 and up
LEGO sets are perfect real-world counterparts for the Minecraft game, and this Ender Dragon Set does a great job of recreating one of the most iconic battles in the game. Kids will have a blast putting together the epic Ender Dragon, and, as a bonus, this set includes a virtual code to get the exclusive dragon-slayer skin to use in their own Minecraft worlds!
6. LEGO Minecraft Crafting Box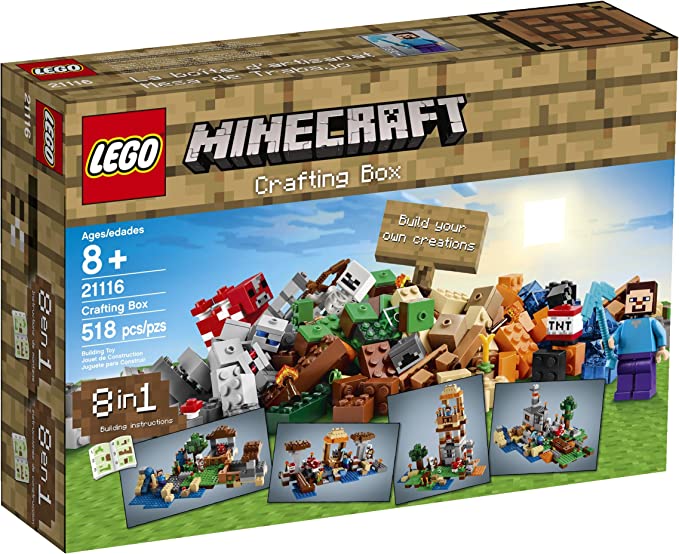 For ages 8 and up
The LEGO Minecraft Crafting Box is a huge 8-in-1 LEGo set that gives kids the chance to build all sorts of amazing Minecraft scenes. It is one of the larger Minecraft LEGO sets available, with over 500 pieces, and includes a Steve mini-fig and exclusive blocks like the diamond pickaxe, lapis lazuli, and a mooshroom cow.
Recommended: How to Make a Minecraft Server
7. Steve Big Fig LEGO Set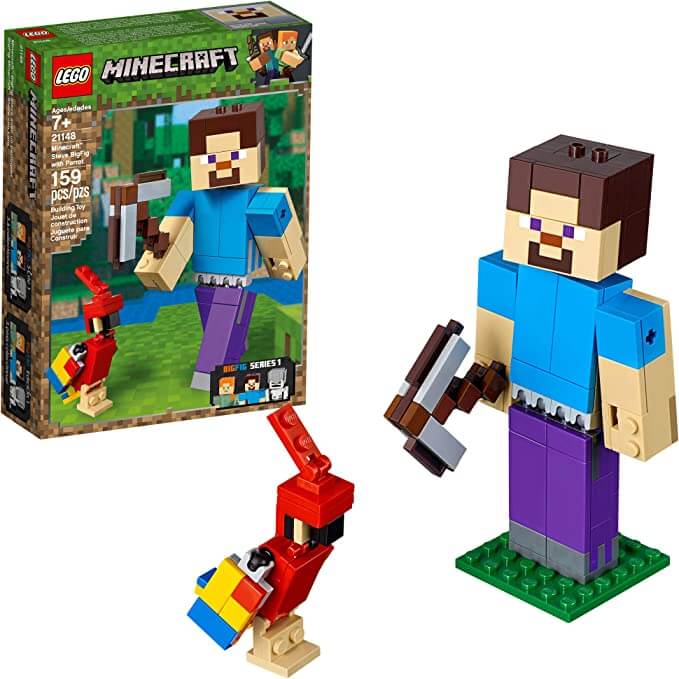 For ages 7 and up
While LEGO recommends this set for kids 7 and up, I personally love this set as a gift for older kids who want to show off their love for Minecraft. There are three BigFig sets to collect, with each figure standing over 5 inches tall, and they look great displayed on a shelf.
8. Ravensburger Minecraft: Builders & Biomes Strategy Board Game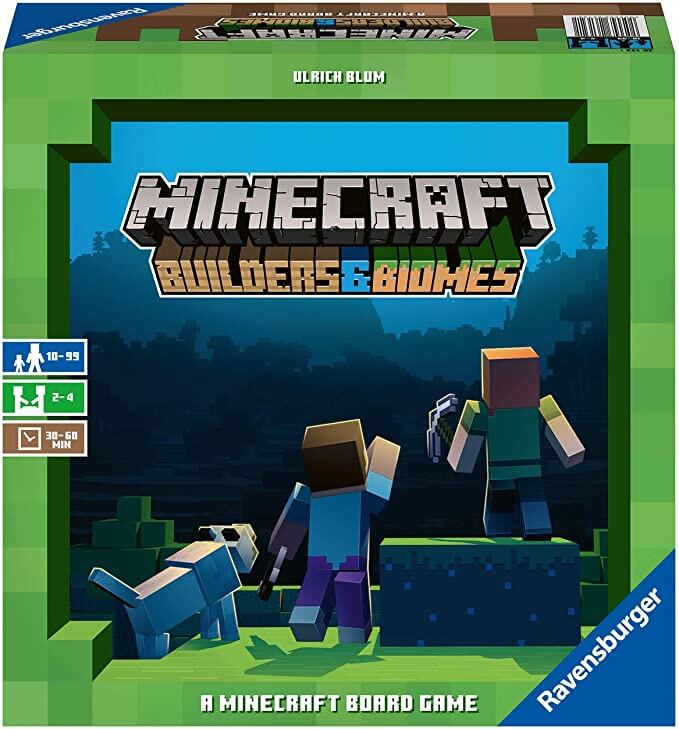 For ages 10 and up
The Builders & Biomes game takes the Minecraft theme and turns it into an exciting resource collection board game for 2-4 players. It's a perfect choice for a family game night, with a setup that changes each game and tons of different strategies for success. Plus, when you're ready, there's an expansion to add even more variability to your game!
9. Ravensburger Minecraft Heroes of The Village Board Game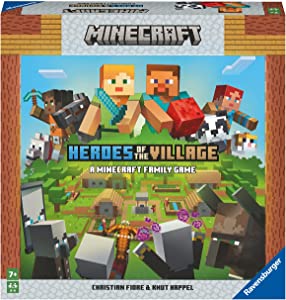 For ages 6 and up
Not feeling competitive gameplay with your kids? Perhaps Heroes of the Village would be a better fit! Instead of a competition to see who wins, this game is a cooperative game where your family works together to defeat the Illagers and save the day!
On a personal note, my family loves cooperative games and this is the game that's in my shopping cart right now.
10. Minecraft UNO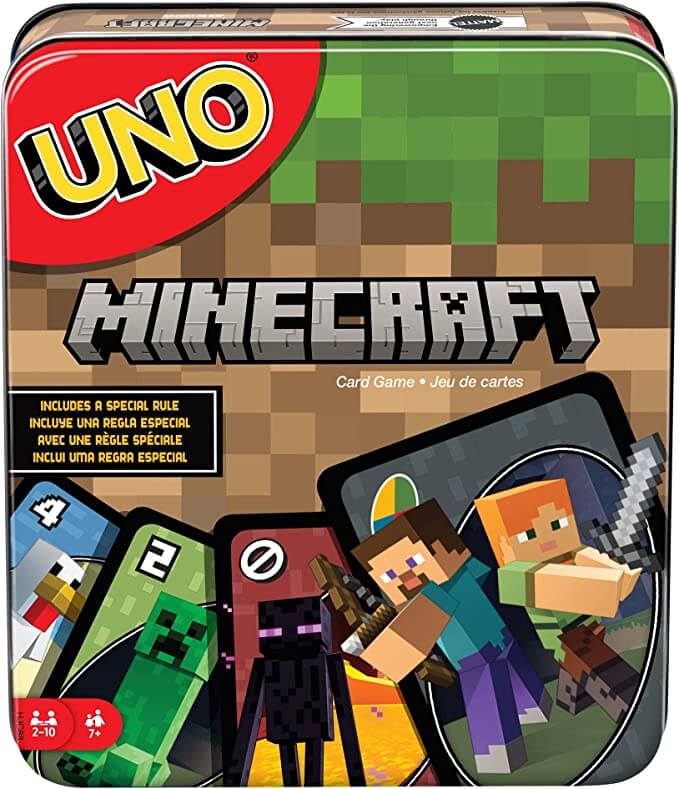 For ages 7 and up
If you aren't keen to learn an entirely new game but still want to add some Minecraft-themed goodness to your family game time, you can't go wrong with this take on the classic UNO card game.
11. Minecraft Axolotl Plush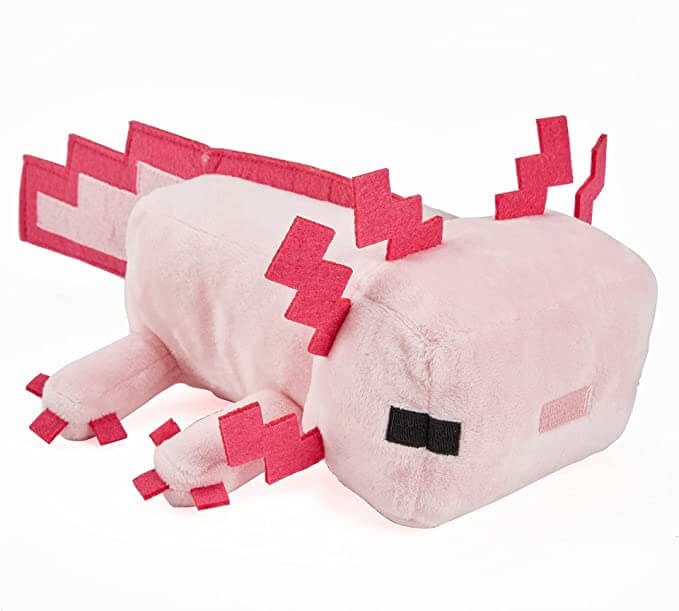 For ages 3 and up
This Minecraft Axolotl plushie is undeniably cute, making it an excellent choice for any younger fans of the game. Of course, if your kid prefers a different Minecraft critter, there are tons of other plushie options available. Pick the one that's right for them, and get them a brand new Minecraft companion in real life!
12. Minecraft SquishMe toys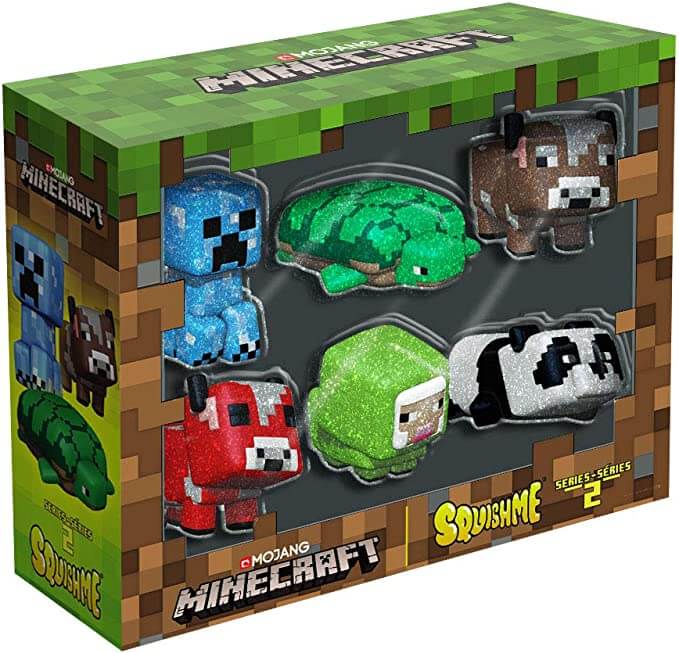 For ages 3 and up
These Minecraft SquishMe toys are the Minecraft equivalent of a stress ball that kids can squish to calm down. For some extra sensory stimulation, this particular set also has a different fun scent for each character and a glittery sheen.
While this set comes with 6 figures, you can also buy them individually.
13. Ender Dragon Treasure X Kit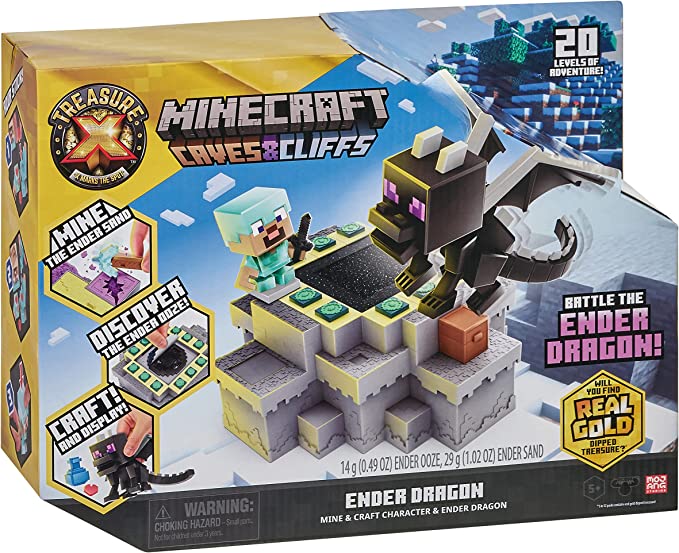 For ages 5 and up
One of the best parts of Minecraft is the sense of discovery that comes with exploring new worlds. These Treasure X Kits work to recapture that feeling in the real world by giving kids the possibility of finding a real gold-dipped treasure!
14. NERF MicroShots Minecraft Ghast Mini Blaster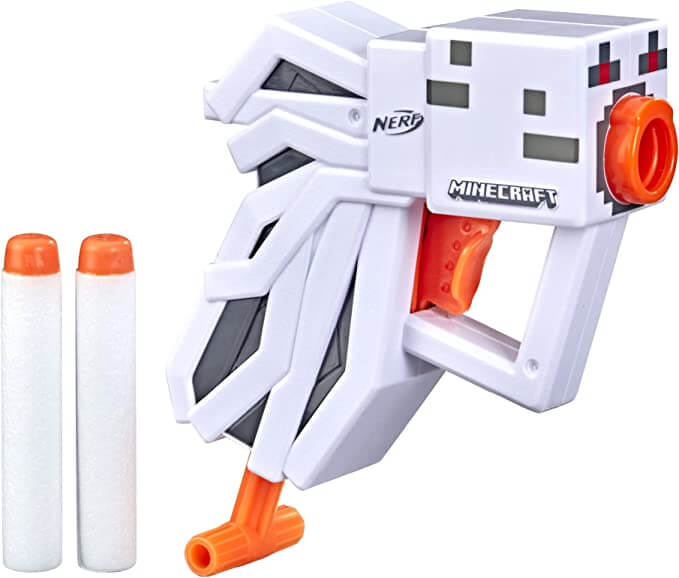 For ages 8 and up
This is a fun mini-NERF blaster modeled after the Minecraft Ghast mob found in the Nether. The blaster is easy to load and comes with two NERF Elite Dart making it perfect for target practice. It's a unique and fun addition to any Minecraft collection!
15. Deluxe Netherite Sword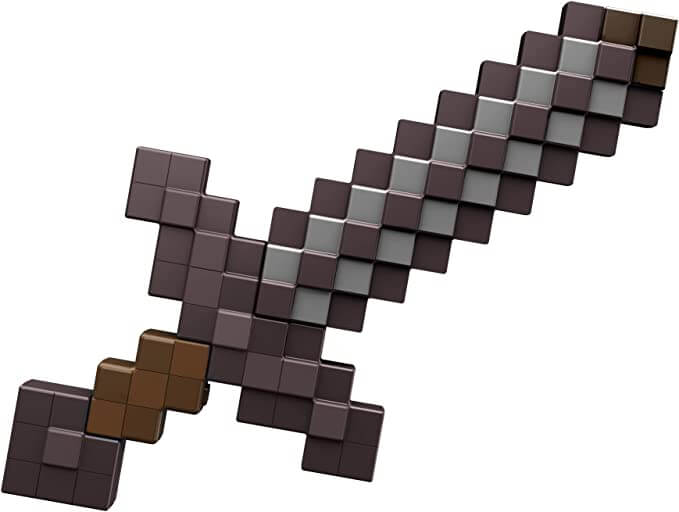 For ages 6 and up
Diamond swords are so last update. This Deluxe Netherite Sword is the new best Minecraft sword, and a perfect accessory for kids who enjoy imaginative play, or for older kids who want to show off their love of the game.
This particular sword also features authentic sounds from the game and soft foam edges to keep kids from hurting each other.
16. Minecraft Piggy Bank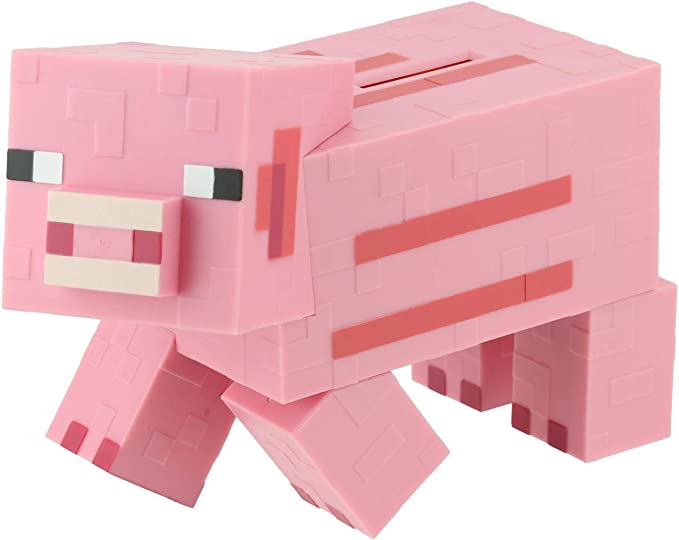 For ages 14 and up
Any adventurer knows that when it comes to keeping your treasures safe, you need a place to keep them. This Minecraft take on the classic piggy bank is sure to do the trick!
It's made out of lightweight plastic and has a stopper in the belly for easy coin retrieval, so you're treasures are always at hand.
17. Minecraft Brown Chest 13-Inch Storage Bin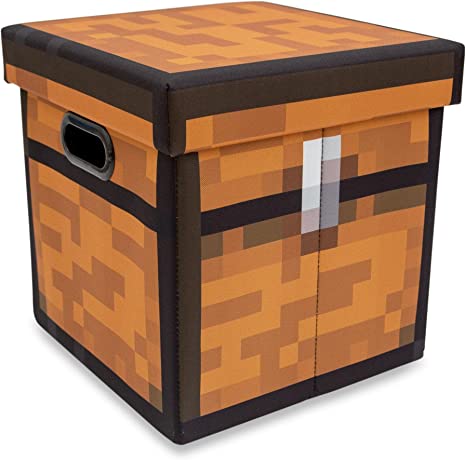 For all ages
Of course, not all treasures fit in a piggy bank. For all the rest, there's this Minecraft Brown Chest!
This 13-inch storage bin is modeled after the basic chest in the Minecraft game, making it a perfect fit for a Minecraft-themed bedroom or gaming area.
18. Minecraft Caved-In Wall Decal
For ages 4-13
There are a handful of different wall decals to choose from, but I especially like this Caved-In Wall Decal from Roomscapes because it makes it look like Steve, Alex, and their pets are looking straight at you from the wall. For a Minecraft fan, it's an especially awesome fourth-wall break!
19. Minecraft Decorative Pillow Cover TNT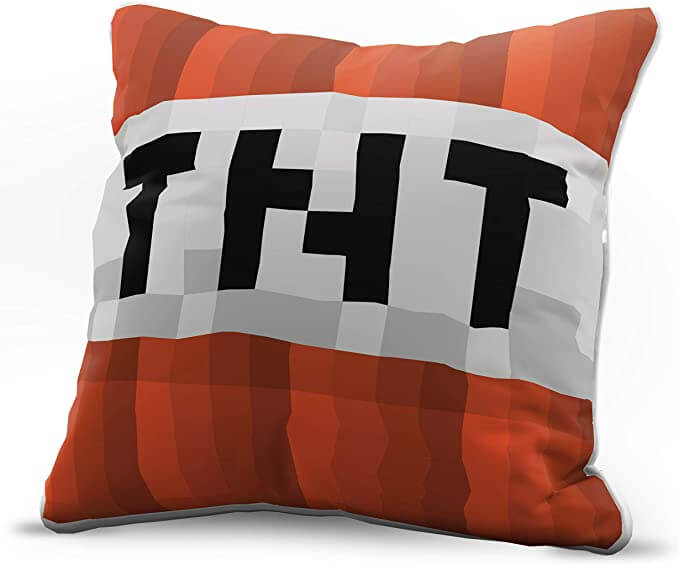 For all ages
This decorative pillow cover is a great choice for a Minecraft-themed game area, bedroom, or anywhere else where you want to add some Minecraft flair. It comes in several different varieties, but the TNT cover is my personal favorite.
These pillowcases are soft and durable and work best as a cover for a 16×16-inch pillow.
20. Minecraft Yellow Bee Nest Block Desk Lamp with 3D Bee Puller
For ages 4 and up
This Minecraft Beehive Desk Lamp may very well be my new pick for the best-looking lamp ever.
Its bright colors are great for lighting up a room, while the Minecraft theme makes it a great choice for any gaming fan. The best part is the 3D chain pull shaped like a Minecraft bee ready to pollinate some flowers.
21. Minecraft T-Shirts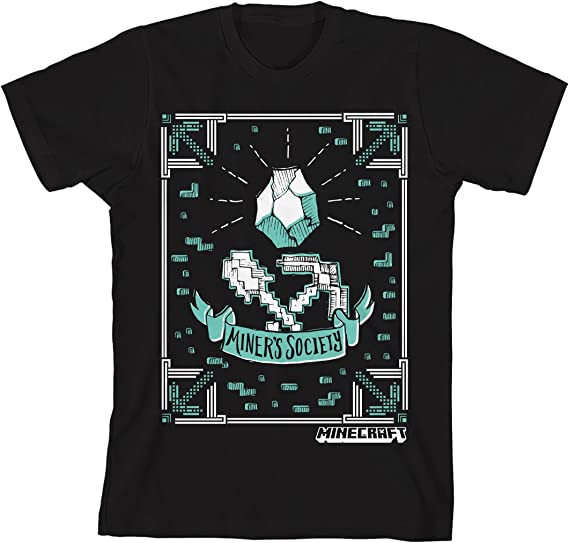 For all ages
When I was a kid, I didn't much care for getting clothes as a gift, but that's probably because no one gave me shirts as cool as these! There are a ton of great shirts available online, so there are sure to be at least a few that fit your kid's style. I personally loved this Miner's Society shirt on Amazon.
22. Minecraft: Minecoins Packs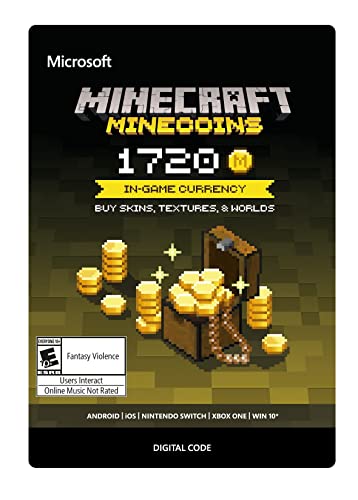 For all ages
Of course, if you want a gift that is guaranteed to please, there's very little that a true Minecraft fan wants more than even more Minecraft.
Minecoins are the in-game currency used to buy new maps, texture packs, and skins in the Minecraft store for any of the Bedrock versions of the game. Do note that if your kid plays the Java version, these aren't for them. Instead, they can download mods for free, or even learn to code their own!
Choose the Best Minecraft Gift
Minecraft is one of those games that has near-universal appeal since it offers so many different ways to play. Kids who enjoy fighting games have tons of zombies and skeletons to fight. Kids who love exploration can discover underwater temples or hidden underground cities. And kids who just want to play with blocks can dive into creative mode and build to their hearts' content!
That versatility is great, but it also means there's not really a one-size-fits-all kind of solution for choosing the best Minecraft gift. It's important to think about the individual kid and what they enjoy about the game when choosing what to get.
For example, my son has really been enjoying defending the villages against zombies recently. He loves pretending that he is a mighty warrior, so something like the NERF blaster or Netherite sword would be tons of fun for him. My daughter, on the other hand, likes building farms in creative mode. We turn the enemies off completely so she doesn't even have to look at a zombie. She would adore some of the Minecraft plush toys, or the piggy bank.
Both of them enjoy flipping through Minecraft building guides and both would love decorating their rooms with Minecraft goodies.
The easiest way to guide your decision is to find out about the parts of the game your kids love and why. Good luck!