Change is moving faster than ever and it isn't happening in a void. STEM (science, technology, engineering, and mathematics) has had a profound impact on the way we live and work. STEM classes for kids affect what's going on outside of the classroom. So, it should be no surprise that they're useful for everyone, even non-engineers.
Applied STEM classes for kids and teens offer hands-on learning opportunities.
Students will get the opportunity to build and gain technological literacy. In addition, they learn to react to failure with grace and a willingness to keep on innovating. Read ahead to learn more about STEM classes for kids: what they teach, which programs are the best, and the best way to get started.
Top STEM Classes for Kids and Teens
What are the STEM classes best suited for young students? Check out the below list for ideas on how to pick the ideal STEM course for your child:
Ages: 8-18
Topics: Coding
Coding is a useful skill in all four STEM disciplines. CodeWizardsHQ offers pop culture-themed live coding courses designed to be comprehensive, challenging, and fun. They teach Python, Java, HTML/CSS, and JavaScript with online STEM classes for elementary, middle, and high school students. Instructors take a student-first approach, giving learners the confidence (and coding skills) to thrive in a digital world. The coding curriculum is highly structured and comprehensive and focuses on hands-on learning for all students.
CodeWizardsHQ offers 12 week-long classes, with weekly sessions, office hours, course certification, and access to a proprietary coding platform for $447. Private classes are available upon request. Learn more and enroll.
Ages: 5-14
Topics: Physical Science, Engineering, and Technology
Is your kid a LEGO lover? Bricks 4 Kidz might be the educational program you're looking for. Their classes, camps, and in-school programs use LEGO bricks to explore scientific concepts through project-based learning activities. Kids of all ages get an opportunity to collaborate with their peers while developing problem-solving skills through continuous practice. After all, what's not to love about building and programming LEGO robots?
Bricks 4 Kidz provides online STEM programs, after-school programs, in-school workshops, and the option for specially-themed events for variable prices.
Ages: 6-12
Topics: Robotics, Engineering, Chemistry, and More
Club Scientific is a "science enrichment company" that hosts summer camps, classes, field trips, parties, and other events to bring science into kids' hands–literally. In addition, educators demonstrate eye-popping experiments in small class environments that encourage children to "play" with real lab equipment in a safe environment, nurturing their love for science.
Pricing is available upon request and varies by activity and local franchise.
Ages: 7-18
Topics: Robotics, Cyber Technology, and Physics
Since 1982, Space Camp has offered the opportunity to experience astronaut training in the U.S. Space and Rocket Center. At this historic site, students are immersed firsthand in the fruits of real-life STEM achievements. Program instruction is aligned with national math and science standards, and aims to increase participants' passion for STEM fields.
Robotics and Space Camp classes start at $1500 for a week-long curriculum.
Ages: 12-17
Topics: Coding, AI, Robotics, and Engineering
Digital Media Academy is all about applied technology courses that examine the intersection between technology and other fields. Whether it's the applications of math in visual art or how coding figures into game design, these courses are designed to unlock your creativity and show how interconnected the worlds of media and STEM truly are.
Self-paced student courses are available for $100/course. In-person tech camp pricing is available upon request.
Ages: 7-19
Topics: Coding, Game Development, Robotics, and Math
Looking for the Silicon Valley startup experience in a STEM class? iD Tech is dedicated to cultivating "life-changing tech experiences". They're best known for their on-campus summer programs, but also provide STEM courses online and online private lessons. From complete novice to programming pro, iD Tech's extensive catalog of STEM classes has something for everyone. They also cover a wide range of topics, including non-STEM subjects like video editing or entrepreneurship.
Online lessons from iD Tech are $60-$70 per course, and in-person summer programs are $600+ depending on the course. Submit an inquiry through their website for information about specific classes.
Recommended: Coding Classes for Teens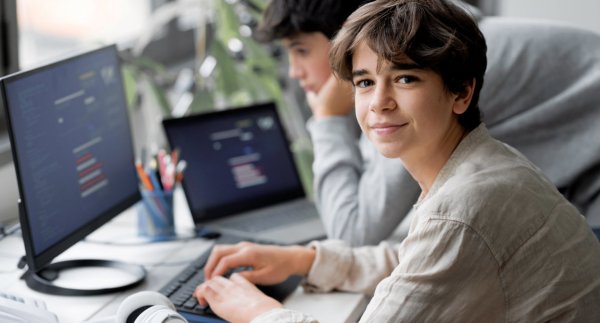 Online Stem Classes for Kids
Looking to start learning from home? Here are a few online STEM programs for high school students or younger:
Ages: 7-14
Topics: Coding and Math
Games are at the core of the CodeMonkey learning experience. If you want online STEM programs for elementary students all the way to middle schoolers, CodeMonkey's intuitive curriculum teaches block-based, text-based, and advanced coding through an educational game-based environment. Most importantly, if your kid loves a challenge in the form of games, then this program is a great fit.
Price will depend on the number of students using the platform and is available upon request.
Ages: 6-13
Topics: Robotics and Coding
The award-winning programs at MakerKids aren't just about teaching kids coding or robotics, but also developing their social-emotional skills. With real-time instruction for grades 1-8, kids participate in private or group classes encouraging them to discover the logic behind science. Building a relationship with technology stems from healthy experimentation, and these STEM online classes enable students to play around with creating games and code.
Four-hour-long weekly classes cost $129, and the price for four two-hour-long weekly classes cost $199. Custom packages are available upon request.
Ages: 7-18
Topics: Coding and Robotics
With a curriculum focused on fun, Create and Learn aims to develop critical thinking skills through small group live instructor classes or one-on-one sessions. Course difficulty can range from beginner to advanced, and they have projects ranging from modding Minecraft to building your own webpage. Attend any live instructor introductory class for free if you're interested in giving their classes a try.
Create and Learn offers 4-hour long classes at $90 per student, and private one-on-one lessons for $220 per student. You can also organize a private group lesson for three to five students of your choice for a variable price.
Ages: 8-17
Topics: Coding and Game Design
Through self-paced courses and one-on-one private lessons, CodaKid teaches professional programming languages like JavaScript, Java, and Python. Unlike most online STEM programs for middle school students, gamified learning through coding challenges and quests provide an environment for students to practice their skills coding apps, programming drones, and building websites. Plus, they get to participate in game programming for Minecraft, Roblox, and more.
CodaKid sells self-guided access to their online curriculum starting at $25/month. Family plans are $270/year for up to three students, and private tutoring prices are available upon request. Free trials are available for both self-guided learning and private tutoring.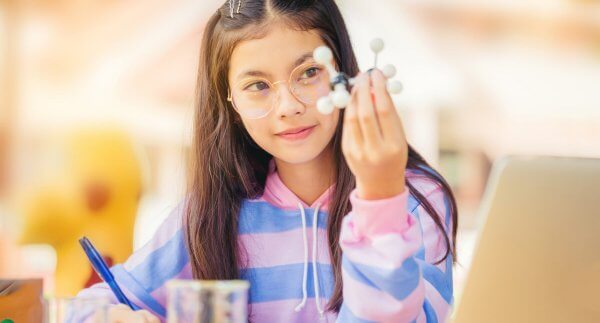 Free Online STEM Programs for Kids
Check out the following selection of free virtual STEM programs:
Ages: 13+
Topics: Coding
Girls Who Code is dedicated to closing the gender gap in programming, empowering girls with the resources to not only get into, but also stay involved in coding. They offer summer programs and clubs where students work on projects in art, storytelling, video games, robotics, and more. Skill-building workshops hosted by professionals offer young girls a glimpse into what a career in STEM looks like.
Ages: 6-14
Topics: Math
Start a learning adventure with Prodigy Math's game-based platform. Students explore an exciting fantasy world, completing quests to earn items. All the while, they're solving math questions, growing their knowledge base through epic battles. On the parent or teacher side, there's also progress reports and curriculum tracking to keep the learning both fun and engaging.
Prodigy Math offers paid memberships, but you can get the core functionality and gameplay for free.
Ages: 5-18
Topics: Coding
Code.org is dedicated to making computer science accessible to all. They offer free online STEM programs for high school students or kindergarteners, and everyone in between. With online activities designed for use both at home and in school, it helps coding skills become a core part of K-12 education for kids, even those who don't have a great coding curriculum at school.
Ages: 5+
Topics: Science, Engineering, Mathematics, and Coding
EdX offers a wide variety of subjects in an online course format and their STEM catalog is quite impressive as well. In partnership with leading STEM thinkers, they provide educational programs designed for various age groups that learners can take on their own schedule to earn certifications in any STEM field of choice.
Most EdX courses are free with optional upgrades.
What do STEM classes teach?
No two STEM classes are identical. However, quality STEM programs for kids do often have a project flow similar to the scientific method:
Define a problem
Create a hypothesis
Conduct an experiment or craft a prototype
Test, evaluate, and adjust if needed
Students are immersed in productive teamwork that encourages problem-solving and open-ended thinking. Even in courses that don't focus on the physical sciences, like computer science classes for kids, there still needs to be an emphasis on critical thinking and problem-solving.
Following a line of inquiry in a STEM program isn't just about finding a single correct answer. You should expect to learn skills like:
Creativity. Applying learning to scenarios helps students exercise an "out-of-the-box" mindset, finding creative experimentation methods for a situation at hand with a willingness to fail.
Problem-solving. Learning through doing rather than studying is a core component of STEM. Teens and kids will be put to the test, presenting practical solutions to problems that are not always immediately clear.
Collaboration. Most STEM classes involve an element of teamwork. Bonding together as teams, students learn how to balance the strengths and weaknesses of individual team members to produce the best result, working harmoniously with a group of people.
Curiosity. Because STEM is focused on real-world concepts it promotes intellectual curiosity about the world. How does this work? Can we make that better? What goes into those processes? This open thinking is what pushes students to continuously improve and iterate, expanding learning beyond the classroom.
The mark of a quality STEM learner is knowing how to ask the right questions, when to build and experiment, and continue through the trial and error process. They aren't afraid to fail, but also willing to work until they succeed.
What is a STEM project for kids?
Now that we understand how important projects are to STEM learning, what are STEM projects for kids?
STEM projects are activites that involve science, technology, engineering, and mathematics. If designed for kids, they should be fun and engaging, with guidance as needed and plenty of hands-on work.
For example, growing a salt crystal at home is a simple experiment that can get kids curious about the science behind crystallization. It's easily done with household ingredients.
What are some skills that can be learned through STEM activities for kids?
Design thinking. Design thinking is a problem-solving mindset with the intent to improve outcomes. Experiments are a great way to get kids thinking about iteration and improvement since they can try different methods of doing things to produce different results.
Critical thinking. The opportunity to get hands-on is key to promoting critical thinking. By putting learned skills to the test in a physical environment, students get more analytical about why things happen, how to make them happen a certain way, and more.
Flexibility. Adapting quickly to new conditions is crucial to succeeding at STEM activities. Learning on the fly and being able to reproduce that learning through doing is true flexibility.
Through hands-on experimentation, younger learners can gain a better understanding of STEM principles and how to apply them in real world scenarios.
When should kids start STEM classes?
STEM programs for kids are typically designed for children 7 and up. However, any child who can engage in hands-on play can start grasping the basics of STEM principles through games or fun activities.
Many STEM classes online have options for different age groups looking to get into STEM. Whatever age your child is, just make sure you understand their interests so you can introduce them to STEM in a fun, productive way.
STEM is important for kids and teens!
STEM is about so much more than the hard skills that science, technology, engineering, and mathematics can provide. It's also about the opportunity to build, to learn equally important qualities like critical thinking, problem-solving ability, and collaborative skill.
Even in the age of screens, learning through doing things hands-on is essential to understanding. Giving kids the chance to connect directly with the principles guiding our modern world is an opportunity to equip them with the knowledge they need to succeed and expand their imagination beyond what they can see.