There's a lot of talk about the importance of STEM education, but what is STEM? STEM (Science, Technology, Engineering, and Math) is a philosophy that teaches all four of these subjects together through real-world applications. That's why STEM activities and projects are a great way to teach kids core concepts in ways that demonstrate how they work in day-to-day life. STEM activities don't have to be left to your child's teachers, though. There are many STEM activities for kids that can easily be done from home.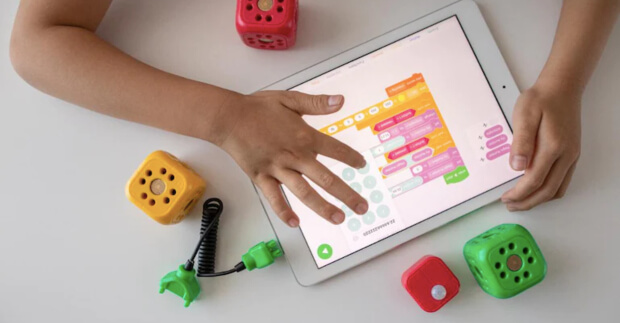 STEM Activities Are Fun & Easy
Teaching kids about STEM not only helps them succeed in school, but gives them skills that will help them in life in general. Skills like problem-solving to learning how to handle complex topics. There are many STEM projects for kids that can be done from home and don't require special materials or books. In fact, many activities utilize common items that you likely already have at home. While our list breaks down STEM projects by age group, they're also great activities for the entire family to do together.
Recommended: Top STEM Classes for Kids
Skills Learned Through STEM Activities
Doing STEM activities at home is a great way for kids to practice and master math and science skills. It's especially helpful for subjects ones they may struggle with in school. After all, learning numbers, multiplication tables, or common chemical reactions is a lot more fun with interactive projects than a worksheet. But there are many life skills that kids can learn from STEM projects, too.
Ultimately all of these activities start with a problem or a goal that needs to be solved or met. Getting to the desired result requires problem solving and critical thinking skills. Older kids especially can experiment with completing a project through trial and error. Many STEM activities also require working together with more than one person. Learning how to collaborate effectively with your peers (even if at home that means siblings) is a life skill that is extremely useful.
How is STEM related to early learning?
Critical thinking and problem solving skills are important for kids of all ages. Young children, in preschool and kindergarten, are just starting to develop these skills. STEM activities help these kids start to look at things differently, experiment, make predictions, and think about how to get the result they want. Younger children learn incredibly fast and it is important to take advantage of this time. It's ideal that they learn these skills from an early age when it's easier for them to pick them up.
What are the benefits of STEM projects for teens?
More than any other age group, teenagers are constantly learning skills and life lessons that shape who they will be as an adult. STEM projects for teens focus on real-world applications of important STEM lessons that can not only help them in school, but help shape what they decide to do as a career. Exposing teens to STEM through fun, interactive projects makes it easier for them to learn key skills in science, technology, engineering, and math, and also gives them the opportunity to experience STEM without the pressure of a grade. You never know when one fun activity at home could end up inspiring a choice in college major.

STEM Activities For Kindergarten
STEM activities for this age group focus on learning numbers, simple math, and fun experiments that introduce kids to some simple foundations of science. Kids this young can even learn the fundamentals of coding with the help of LEGOs!
Recommended: Scratch Coding for Kids
STEM Activities For Elementary School
In elementary school, kids can get into more detailed experiments and activities and have better fine motor skills for more intricate engineering projects. STEM activities are also a fun way for this age group to practice the math skills they're learning in school.
Recommended: Best Scratch Games
STEM Activities For Middle School
STEM ramps up for most kids in middle school, especially when it comes to science. These activities make it fun for them to practice all the new lessons they're learning. When it comes to technology, this is also a great time to introduce block coding through Scratch if they haven't been exposed to it before.
Recommended: Coding Websites for Kids
STEM Activities For High School
High school students have more STEM related classes in school than any other age group, from chemistry to physics to algebra and calculus. STEM activities at home make it easier for teens to have fun with what they're learning and can also expose them to topics that might not be available in school.
Recommended: Free Coding for Kids Resources
Technology is a key part of STEM and coding is how the majority of technology is growing and expanding. Surprisingly, the majority of schools don't teach coding or only cover it briefly. There are many reasons why learning to code benefits your child. Kids who know how to code have a head start on many different careers and opportunities as they get older. CodeWizardsHQ makes learning how to code fun (just like these STEM activities) through interactive, age-appropriate projects taught by live, online teachers. Our coding classes start with teaching programming fundamentals and quickly have students building their own games, websites, and apps to keep them engaged and wanting to learn more.
If your kids have fun with these STEM activities, signing up for an after-school CodeWizardsHQ class is a great way to take the next step in encouraging their interest in STEM.
Ready to level up your child's learning experience? Take a coding class with CodeWizardsHQ: