May, a CodeWizardsHQ high school student is a modern-day Renaissance woman. She excels in a wide variety of disciplines that include math, coding, and economics. She is also an award-winning artist and plays piano. Her hard work and dedication make her a standout CodeWizardsHQ student.
Building a Firm Coding Foundation
May's mom is an engineer who understands the value of coding education. She was looking for a coding program that would be academically challenging for her daughter and mirror a school experience. She found CodeWizardsHQ.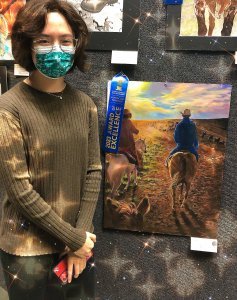 "I was looking for a systematic, long-term program so she could learn in a solid way over time, learn the detail, and then do a project or a quiz like in school, so you have a foundation in the language. Coding is like learning to drive. Every student should learn to code in addition to their own major. I think that's very, very important."
May initially was interested in coding because she played video games and wanted to learn more about their mechanics and logic. Now, a proficient coder, she channels her artistic side when she thinks about why she enjoys coding.
"It's like transferring something from my head to reality. It's really fun to create something and just watch it happen. I also have hobbies where I like to draw and so it kind of comes naturally to me to see the work from my head come to life."
Coding Projects
May is currently in the Intermediate Python class, her third class at CodeWizardsHQ. One of her favorite projects was at the end of Intro to Python, a project called Rock, Paper, Scissors. She enjoyed putting all of her coding skills into practice in this course-ending project. She also liked the end project for Fundamentals of Web Development, a to-do list app that she actually uses for homework. She is looking forward to learning more advanced functions.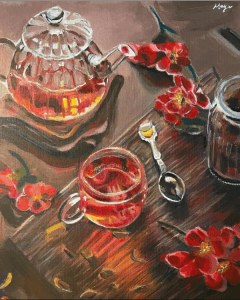 May has successfully used her coding skills outside of her CodeWizardsHQ classes as well. She recently won a designation through MIT App Inventor. She developed an app that helps students track their homework assignments on a personalized screen. May submitted the app to MIT App Inventor and her work was recognized as the app of the month.
May sees using coding as a tool for her future. She is interested in both coding and economics and would like to combine those with the study of data technology to determine patterns of human behavior. Her favorite subjects in school are math and AP Human Geography. She also enjoys the study of economics and the distribution of resources.
Award-Winning Artist
In her spare time, May funnels her artistic passion into visual art. She has been entering art competitions since middle school. May makes posters for art competitions in mixed media, acrylics, and colored pencils.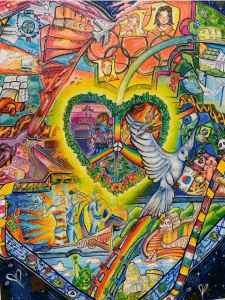 "To compete, you need a really good message, explain your art, and have intricate details to get the message across."
Her latest winning project was a poster with cowboys for the Houston Livestock Rodeo Show. She has also entered art competitions through her school as well. Her "Peace" poster for the Lions Club made it to an international level of competition.
We are thrilled that May and her family have chosen CodeWizardsHQ. We look forward to seeing how she combines her diversified talents to build what will no doubt be a very bright future.