Some of us have great runways already built for us. If you have one, take off! But if you don't have one, realize it is your responsibility to grab a shovel and build one for yourself and for those who will follow after you.

-Amelia Earhart
CodeWizardsHQ instructor Anaiti Aruaz's childhood hero is Amelia Earhart. Much like the pioneering pilot, Anaiti loves to fly. She shares a keen sense of wonder about technology and the future with her hero as well. Anaiti is also passionate about encouraging CodeWizardsHQ students to be inspired by the tech skills of the future.
"I think that we're at a revolution in technology. There's this huge thing going on right now where I think that technology and tech careers are going to be the modern medicine of this century."
A Passion for Technology
Anaiti's interest in learning to code started in a high school robotics class. She also taught herself HTML/CSS as a teen. Drawn to the tech world, she initially obtained a 2-year degree in mechanical engineering.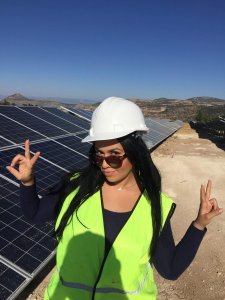 "During my undergrad, I was a mechanical engineering major and was studying the mechanisms of renewable energy propulsion systems. I was invited by Siemens to tour and study one of their European partners, Borsan, a renewable energy company in Turkey. I was placed in their solar farm project to study the most optimal battery capacity of solar system transformers. I loved it but saw that I could impact more with programming."
Ultimately Anaiti did attain a Bachelor's in Computer Science in Software Engineering. She completed her last college years studying virtually while in Egypt with her husband and new baby. She is currently in a master's program.
Teaching Tech
Anaiti's experience isn't exclusive to programming and engineering. She also holds a teaching certification and has taught English to a wide range of students whose native languages include Russian, Chinese, Japanese, and Turkish. Pairing her teaching experience with a passion for programming was a natural fit for Anaiti. She saw an ad for CodeWizardsHQ.
"When I found this I thought, I can teach something that I'm passionate about, and it's related to my field and it's also online. So I just thought it was such an amazing opportunity. I decided to teach coding because it's something that I wish was around when I was younger."
Anaiti teaches all levels at CodeWizardsHQ from beginning Scratch for elementary students to the High School Capstone courses. When asked about her favorite courses to teach, she reports that she enjoys all of them, but several in particular stand out.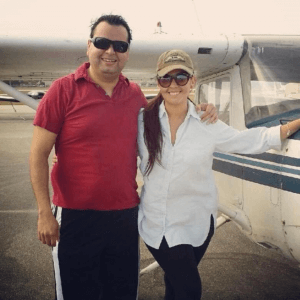 "I like all of them, but I would probably say I love the transition where the kids are going from Scratch to Python. It's really exciting to see the kids achieve tasks that they've never met before. Not only are they learning something new, but you can see this expression of, 'Oh, my gosh! I did that!' You can just tell their overall satisfaction and how they feel accomplished. I also love the capstone classes because it's just amazing to see the kids really dive in on everything that they've learned at CodeWizardsHQ and explain that on their own in such a smooth professional way at such a young age. It's extremely impressive. I have taught such bright students and I'm just so grateful to have had them in my class."
While enthusiastic about all of her students and their coding journeys, one particular experience has been most memorable.
"One time I was teaching and I had a student who had not taken a class in a while. He was kind of rusty. I was trying my best to make him feel comfortable. We were learning operators and using math with remainders. I had to go into basic fractions with the class. Later he messaged me, thanked me, and told me that I had explained math to him better than any of his teachers ever had. He told me that I made him like coding again. It meant so much to me. I've had a couple of moments like that, but that one really touched me."
Coding Instructor Advice
Anaiti is a proponent of starting a child's coding education as soon as possible and is supportive of CodeWizardsHQ classes in particular.
"If I could talk to my mom when I was 8 years old, I would have been begging her for these classes. It would have helped me so much in high school and college. Even if you don't major in computer science, the skills that you get from coding can be applied to so many things in life. They really trigger that mathematical thinking part of the brain and creativity. I've been extremely impressed by the way that CodeWizardsHQ is able to so beautifully put these programs together. I wasn't exposed to a lot of these skills until I was in college and my professors were definitely not explaining coding nearly as simply as we do."
Impressive Pastimes
In addition to working as a software engineer, teaching at CodeWizardsHQ, and being a new mom, Anaiti manages to squeeze in several exciting hobbies. Both are reflective of her sense of adventure and industrious character.
"When I was about 8 years old, I found a book about Amelia Earhart. I read it and fell in love with her. I was just so obsessed with wanting to be like her. I didn't realize there were girl pilots because I had only seen my godfather flying. He took me flying for the first time when I was 13, and then I actually started my pilot's training when I was about to finish high school. I never looked back after that. I love it. It's such an adrenaline rush. Now I'm part of a flight club with my godfather and uncle and fly about twice a month."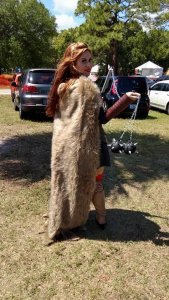 Anaiti's other downtime focus funnels her creative side. Anaiti enjoys cosplaying and attending anime-themed comic-con-style conventions. She creates props and armor that mirror some of her favorite anime/manga characters. Prop and armor creation is an intricate process that requires a great deal of skill and patience as the maker must manipulate a variety of media such as thermoplastic modeling material, foam, and paints. It's a challenging art form that inspires excellence and imagination.
Anaiti channels her creativity as well as her extensive computer science experience into each class that she teaches and is thrilled to pass on her knowledge to CodeWizardsHQ students.
"The students' reactions remind me of when I was a child, exploring and discovering something for the first time. I see that in them and it's just so compelling. It motivates you to be a better teacher and to keep that little light in them constantly inspired. If I have the ability to make that difference to inspire, even if it's just one kid, to pursue a career, to just find an interest in coding, or like it even one-fourth of as much as I like it, then I would be very happy."