CodeWizardsHQ instructor Justin Broussard hails from southern Louisiana. His Cajun roots are apparent from his love of zydeco music to his appreciation for the amazing local cuisine. In addition to his affinity for the Bayou State, Justin has a passion for education and teaching kids how to code.
Learning to Code
Justin was interested in coding at an early age. He enjoyed video gaming and was curious about the programming behind them. During college, he began to explore coding on his own. He chose an education career path that focused on special needs students. While working as a teacher, he started to see how coding could help him with his daily tasks.
"I really started to learn to code when I became a teacher. I realized that I could do paperwork and track data on behavior and achievements in a fraction of the time with a Python program. That's when I started using Python to crunch my data and fill out forms automatically. Then I started building websites for my school."
Justin taught himself how to code in an era with limited online resources.
"Initially, it was just books. I'd go to the bookstore and research different programming languages. I tried Java and JavaScript and eventually fell in love with Python, the way it looks, the way it works, and how simple it is. From Python, I started to learn HTML/CSS and JavaScript."
Passion for Education and Love of Coding
Justin was searching for an online teaching opportunity to pair his passion for education with his love of coding and found CodeWizardsHQ. He now teaches elementary and middle school classes. He also instructs in Intro to Python, Web Development, and User Interface courses for high school students. When asked about his favorite class to teach, he cites a Capstone course.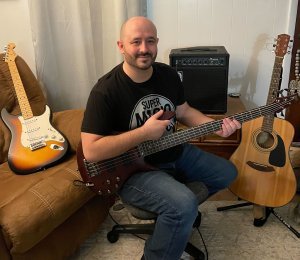 "I like to teach the middle school class about game development. It has three large projects. It's good to get those students thinking about longer-term projects."
While he enjoys teaching all levels, he appreciates the enthusiasm that the elementary and middle school kids bring to class. He loves it when students ask questions, are excited about learning, and want to share their homework. He also enjoys watching his students personalize their projects.
"I had a Scratch student who was obsessed with Godzilla. He made sure that he showed me some kind of Godzilla project that he built in Scratch every single week. I thought that it was amazing that he could take his love for this make-believe character and apply it to what he was learning at CodeWizards."
Justin has been teaching for eleven years but still finds that he is impressed by his students and their imaginative problem-solving.
"I continue to learn this every time I teach a class. There are so many different ways in code to solve the same problem and my students show me that all the time."
Justin believes that the CodeWizardsHQ teaching model is the basis for successful education.
"I really think this is the future of education. Smaller class sizes are so important. I was able to have that as a special education teacher and could see the difference. CodeWizards has the right vision with smaller class sizes and live instructors. It was hard to be self-taught. Just to be able to ask that question to someone who can guide you in the right direction can make all the difference. CodeWizards is affordable and accessible all over the world. I've taught students in Spain, Brazil, and India. It's amazing. I'm so happy I found it."
Louisiana Life
Justin prefers rural life and the quiet country. He lives in a small town of about 4,000 people surrounded by farmland with cows, rice, and sugar cane fields. His quiet lifestyle has recently been interrupted though. He and his wife just welcomed a new baby boy!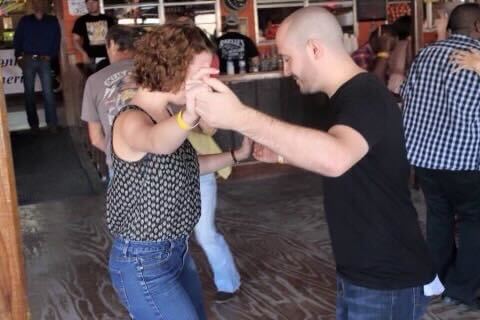 Coding isn't Justin's only self-taught skill. He taught himself how to play the guitar. His Louisiana roots shine through in his love of music. Growing up he performed as a bass player, was in a jazz band, and was in a classic rock band in college. He even met his wife dancing to zydeco. In his spare time, Justin still loves to play video games and today he enjoys building them as well.
We are fortunate to have Justin and so many exceptional coding educators as part of our CodeWizardsHQ family. Their dedication to coding and passion for education give our students an industry-leading coding education.