Meet Eric! Eric's passion for game creation led him to explore coding at an early age. Now in his third course at CodeWizardsHQ, Eric is well on his way to gaining the skills to make his creations come to life. His imaginative abilities stretch beyond the screen though. His productions often start with board games.
Beginning a Coding Journey
Eric remembers the specific moment when coding and gaming piqued his interest.
"Back in elementary school, we had a STEAM lesson. They were doing a maze game where you use arrow keys and race against each other and then you got to design your own maze. I did that with my classmates, and I thought it was really cool. I remember that it was Scratch, and I went home, and I opened up Scratch. I was little at the time and I didn't get a word of it and put it down for many years. Then I picked Scratch back up and then I loved it, and I finally got it, but it's kind of limited in making games, so I'm going to find the program that's for me."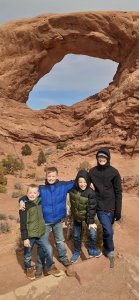 Eric's mom noticed his affinity for tech and was further motivated by his career and aptitude testing to pursue a coding education for her son.
"He loves coding. He's very interested in computer programming and computer science. Eric took an aptitude test and that was pretty much all of the career placement recommendations, game developer, software engineer, and all sorts of gaming ones. We thought that we needed a good solid foundation to start and then build on. I think everyone should have a basic understanding of coding."
She began to research coding education options to supplement their homeschool curriculum.
"He had done Scratch and various things like that, but I felt like he needed something that was more structured. I researched different sites that talked about the top coding programs online for kids and CodeWizards kept popping up. I liked that there was a structured class as opposed to just working at your own pace because I think that you need that feedback from a teacher to make sure that you're getting a well-rounded education as opposed to learning on your own. I liked that there were several levels that you could learn from and that it went from elementary school all the way up to high school. It felt more like a comprehensive program."
Going the Extra Mile
Eric began his coding journey at CodeWizardsHQ last August. He is now enrolled in the User Interface Development course in the High School Core Track program. With gaming development in mind, it's not surprising that he has enjoyed Python the most so far.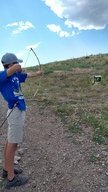 "All of my favorite projects have been in Python because you can use it to make video games. I have made a rock, paper, scissors simulator, and a Mad Libs game."
CodeWizardsHQ students are encouraged to customize their projects. Eric enjoys putting his signature creative style on his work and then takes it one step further by creating additional side projects.
"Our teacher, Nathalie, was showing us how to use randint in Python. It is a random number generator, and she gave us some applications for simple games like 21 and coin toss. I joked with her that we were learning a bunch of gambling games, but then it gave me the idea to do just that. First, I had to look up what type of games they have in a casino. Then I decided to create a side project where I compiled all the games we were creating into a "casino" and I added a roulette game as I learned more coding functions. I also added a lot of my own ASCII art for the project."
Eric appreciates the foundation that he's getting in Wizard Level I and wants to expand his Python knowledge.
"What I learned from these classes is kind of the core language of coding. I've learned the basics and the things that they all share, and I'll be able to learn others more easily. I'm looking forward to the next levels of Python."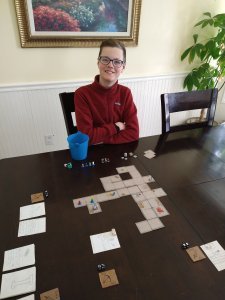 Home, Hobbies, and More Gaming
Aside from coding, Eric has the typical busy high school schedule. His favorite subjects are science and history. He enjoys archery, camping, and reading fantasy-based books. He recently started learning to play the piano.
Gaming is part of Eric's downtime as well. He enjoys making his own board games. Inspired by a YouTube video, he has created a fantasy game where the player moves around a map and discovers new tiles to escape from a dungeon. He hopes to use board game inspiration one day to create video games.
"I've always loved coming up with games and coding is a way to put the pen to the paper and make them come to life. I hope to one day find the program that is perfect for me and then I'll code games and publish them to the world."
CodeWizardsHQ is fortunate to have Eric as part of our coding family. His dedication to coding and motivation to go the extra mile enhances everyone's class experience. It seems his instructor, Nathalie, agrees.
Eric is a very creative and hard-working student! He always goes above and beyond on each of his assignments, by experimenting with code elements that he researches outside of class, and by incorporating his other interests, like pixel art. It's a pleasure having Eric as a student, and I'm excited to see whatever he creates next!

Nathalie, CodeWizardsHQ Instructor
Eric's Standout Projects: