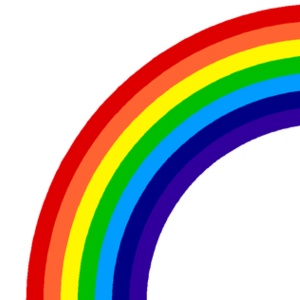 So shall we create our way…

Caretaker and rainmaker we must be…

So shall our fears and some tears fade away…

Keep up…keeping up…the rainbow trail is around the corner

It is beautiful to hope…to hope…to hope…

Segment from Rainbows trails provide hope.

by M.W. Hardwick
With all of the changes happening around us due to COVID-19, it feels like we're all grasping for human connection and contact, but from a distance.
Social networks are promoting the hashtag #stayhome to encourage social distancing and avoid the spread of COVID-19. Many families around the globe are also adopting an initiative that was born in Italy under the name "Tutto andrà bene" meaning "everything will be ok".
This campaign has filled windows and doors of houses in many cities in Italy with drawings made by children who cannot go outside and choose to write positive messages instead. The initiative started with a few mothers in Bari, Puglia using Facebook, and then picked up across the country. Now, it has spread to Spain, England, and now the USA.
The viral #rainbowtrail initiative aims to spread hope and positivity, as well as give children something to look out for on walks or through their windows. All kids have to do to participate is draw a picture of a rainbow accompanied by an encouraging phrase, "Tutto andrà bene" in Italian or "Jiayou" in Chinese. They then hang these signs outside or in windows to spread the uplifting messages.
While kids are not able to go outside, when they look through the windows they are able to see "solidarity" with their neighbors' rainbows in the windows. It reiterates how we are together in this journey and underlines the community's pledge supporting staying inside during the corona pandemic.
Today, CodeWizardsHQ wants to participate in this initiative by transforming this activity into a reason for kids to learn a little about coding. We believe that coding can unite people throughout the world and we know that together we are stronger.
We invite you to hang your finished #rainbowtrail project, snap a picture, and tag us on social media @CodeWizardsHQ! Download the free printable #RainbowTrail coding activity instructions and the drawing page here.
Did your kids enjoy the activities? Would they like to continue learning to code? CodeWizardsHQ delivers the most fun and effective live, online coding classes for kids and teens ages 8-18. We offer coding classes to elementary, middle, and high school students.
You can also enroll your child in a special daytime or accelerated class during school closures.