You guys are the magicians of the 21st century. Don't let anything hold you back. Imagination is the limit. Go out there and create some magic.

Elon Musk
CodeWizardsHQ student, Praise-Him is a bit of a young Renaissance man. He enjoys a broad and impressive array of school subjects and extra-curricular pastimes. His accomplishments both in and outside of the coding classroom and his engaging and thoughtful demeanor make him an excellent choice for a monthly Spotlight.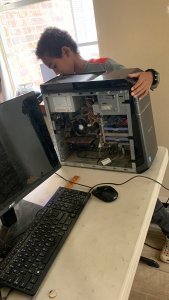 Praise-Him's Coding Journey
Praise-Him first became interested in coding three years ago as an eight-year-old when he observed his older brother and sister receiving coding instruction. He started tinkering with computers and programming. His father noticed that his son had an affinity for coding, researched coding education, and found CodeWizardsHQ.
Now in just his second class, Beyond Basics with Python, Praise-Him already has a large portfolio of coding creations. One of his favorite CodeWizardsHQ projects has been a chatbot that he made in Intro to Programming with Python. In addition, his independent projects have wide-ranging uses.  A Geometry Assistant app makes it easy to find the area and perimeter of any sized square, triangle, circle, or rectangle. His Pizza Clicker game counts and averages the number of player clicks. A Candy Store game entices players to choose candy in an effort to total $50 with winners getting an imaginary factory tour. Finally, and perhaps most impressive is a fully functional website that Praise-Him has made for his father's own business!
Praise-Him and his family travel the world and sometimes he has to participate in a coding class as late as midnight. He hates to miss a moment and is undeterred by the late hour. Praise-Him likes learning Python at CodeWizards and is looking forward to acquiring more HTML/CSS skills. He has a firm idea of his future. Praise-Him aspires to be a software developer and is interested in working for a large company, gaining experience, and eventually striking out on his own and creating something new.
"Maybe I can be a freelance developer. I can work on contracts for people. I can do them at my own pace and have more free time in my life."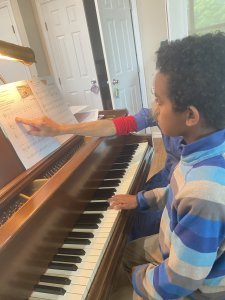 Praise-Him's father is clearly excited about his son's future.
"I was telling him; I want you to have your own company and create something that was not created before like Elon Musk. I think better than him!"
Praise-Him is a top contributor to the Student Forum, a moderated online community at CodeWizardsHQ where students can connect with other students to collaborate and get help with homework and projects.
School and Hobbies
As a homeschooler, Praise-Him has the ability to explore his own interests, He likes the homeschooling life and the freedom it gives him. His family has the opportunity to visit some of the history that they study up close.
"I enjoy homeschooling because I have more free time and can do things at my own pace."
Praise-Him's favorite school subjects are history, math, and English. He loves to read, especially about history.
"My favorite books to read are about the Revolutionary War and about the Civil War too and Harriet Tubman."
Praise-Him participates in a long list of extracurricular activities. He is learning to play the piano and violin. He and his family sing in church and take their musical talent to senior homes, performing and bringing comfort to residents. Praise-Him is developing other useful skills as well. His family's hobby is renovating houses and he is often pulled in to help with do-it-yourself projects such as painting, flooring, woodworking, and carpeting.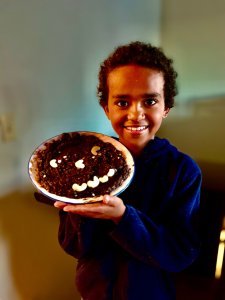 Praise-Him enjoys cooking. His culinary creations range from salsa to cakes, but his favorite recipe is apple pie. Hardware repair rounds out a collection of hobbies that make Praise-Him a pretty busy student. He recovers computers that are old and dusty and fixes them, making them usable again.
With so many interests and a drive to succeed, there's no doubt that Praise-Him is well on a path to a life of significance. His current instructor, Christopher, agrees.
Praise-Him is a bright, wonderful student who often answers a question before I even ask it. He is a delight to instruct and is a fantastic coder who has a bright future ahead!

Christopher Omundson, CodeWizardsHQ Instructor
Praise-Him's Standout Projects