Meet Michael, a creative young man learning to code at CodeWizardsHQ whose hard work and dedication has led him to be our Student of the Month!
"I think coding is going to be just as important as learning to read and write English. It will be a universal skillset."

– Michael's Parents
Michael's Standout Projects:
Standout Badger Projects: Here's a project Michael made in scratch he did on his own prior to starting our coding classes.
Standout Homework Projects: Here are some projects that were from class projects or homework that he customized into Badger projects.
Michael's CodeWizardsHQ Journey
It is quite special when you get to meet a kid like Michael. When asked about learning to code he said "I decided to learn coding over other activities because coding is more fun and you can learn a lot more than other activities. I like that you can create your own games using coding languages." The majority of kids don't make the connection between learning to code and creating the games they play. More so, at such a young age, this young gentleman can already see how coding has helped him in life, "such as being ahead of my class in a coding elective, it can help me in college, and it amazes my family and friends."
It is easy to see Michael's ability to plan where the coding skills he is learning now through CodeWizardsHQ, will take him in the future.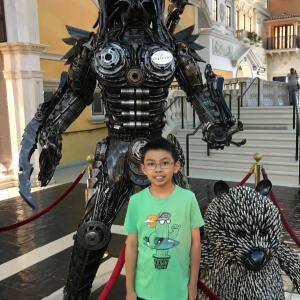 "I might want to become a video game designer or work at a video game company." We believe that is possible because of our firm curriculum and the real-world experience we give our students. CodeWizardsHQ students not only become part of a community that requires dedication, participation, and perseverance, but also our comprehensive program "teaches you many coding languages, they explain the coding, and they help you when you have errors."
Our classes are three words for Michael "fun, challenging, and badgers". The latter is an inside joke, that we are yet to be privy too, maybe we can get his teacher to give us the scoop! It is in fact one of his favorite projects, the Badger Profile, and one of the reasons why he appreciated his teacher so much! "I like my CodeWizardsHQ teacher because she is nice, she explains everything, she likes badgers, and she helps us a lot."
Questions for Michael's Parents
Q. How did you find out about CodeWizardsHQ?
Google search for coding classes for kids.
Q. Do you have a specific experience or story you'd like to share that your student has shared related to your classes at CWHQ?
Michael has always had an interest in coding. When his coding teacher said his skills were advanced, Michael and I felt very proud. It was very encouraging to know that the time he has spent learning to code has paid off.
Q. How do you think coding is going to impact your family in the future?
I think coding is going to be just as important as learning to read and write English. It will be a universal skillset.
Q. What goals or dreams do you have around coding for your children?
I hope that if Michael continues to have a passion for coding, he will be able to either find a career in it or enhance another career in a similar field.
Q. Do you think it's important for kids to learn to code?
Yes. I think coding will become almost as universal as learning English.
Q. What is your favorite aspect of working with CodeWizardsHQ?
I like the formal education you provide.
Q. Would you recommend CodeWizardsHQ to other families interested in coding?
Yes
Q. How has learning to code impacted your child?
Michael is expanding his skill set and creating more elaborate programs.
Q. Has the coding experience been the same or different for your second student?
Michael's younger brother doesn't have the same passion for coding, but still enjoys participating in an activity together.
Here is what Michael's Teacher, Sheena, had to say about him:
"Michael is a very bright and extremely creative student. He always goes above and beyond on each of his assignments and makes them into a new variation on his "Badger" theme! The Badgers are an extensive series of original artworks created by Michael, which he features regularly in his coding projects. Since his Badger characters are a strong interest of his, it's amazing to see him actively leverage his interests and channel them directly into his projects, which keeps him highly focused and engaged when coding. I'm always excited to see what he will create. It's a pleasure having him as a student, and I'm always happy to encourage him to go as far as he can imagine with his coding projects."

Sheena Griffin, CodeWizardsHQ Teacher
At CodeWizardsHQ, Our Students Are
Our Top Priority.
We are lucky to have Michael and his family as a part of our community!
Interested in learning to code this summer?
See our summer classes and coding camps for kids.
Level up your child's learning experience. Take a coding class with CodeWizardsHQ:
Elementary School Coding Program, Middle School Coding Program, High School Coding Program