When Goldie and her family were living in Dubai, coding was part of her regular school curriculum. After moving back to Canada, her mom wanted her to be able to continue with her coding journey. That's when she found CodeWizardsHQ, which has helped Goldie discover a true passion for coding.
An International Move
Goldie and her mom, Olya, lived in Dubai for nearly 10 years and Olya loved seeing how much her daughter excelled with her computer science classes.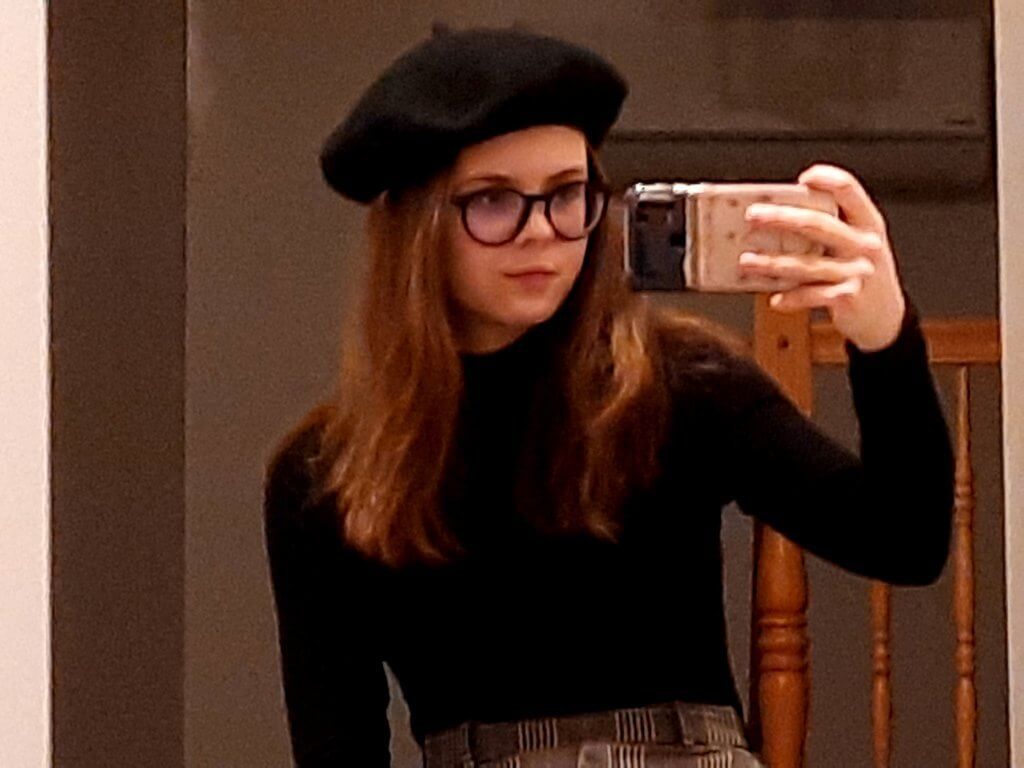 "She was doing extremely well there, even having 95 percent on the subject achievement and her teacher told me that she was doing very well and she's a natural in certain ways."
They moved back to Canada last summer and Olya discovered that computer science wasn't as much of a focus at Goldie's new school. That's when she turned to Google to find additional coding resources for her daughter. She chose CodeWizardsHQ because she liked all the positive parent reviews and our transparency with keeping parents informed about what is taught in each class.
"We've been happy and I like that classes are small and her teachers follow up. If there is a question, there is always an answer," she says.
Inspiration from the Big Screen
From Goldie's perspective, her interest in coding was sparked from movies and video games.
"As cliche as it may appear, I think the reason why I really got into coding was because of superhero films and video games. You know, I see R2D2 on the screen and think, I want to code something like that. I want to have this tiny little droid running around behind me being able to execute so many different commands," she says. "However, it also came from everyone's favorite game, Minecraft. I was watching this one YouTuber and she kept having all these mod packs that basically enhance your game and I was really curious on how they code it."
Although Goldie already had some experience with programming fundamentals and Python thanks to her previous school, she wasn't long into our high school program before she was being introduced to new concepts.
"I think the first two or three lessons were really easy because they were concepts I'd already had a good foundation on, but then the next few courses I was just amazed. It was the slot machine that we were making that was really fascinating, because we covered the random function in my previous school, but here we really went deep into it. I really like how this course has an opportunity to dive deeper and explore more in-depth about how everything kind of connects together."
Having recently completed her second coding class at CodeWizardsHQ, Goldie already has some favorite projects, including the pixel art project (a consistent favorite among students) and the rock paper scissors game.
"With the rock paper scissors one, instead of doing your typical 'rock, paper, scissors, shoot' I decided to take this pop cultural reference and make it five choices. So I had to ensure that it all adds up and debugging it to make sure each and every option ran properly was really interesting and fun."
Creative Hobbies for an Analytical Mind
Goldie describes herself as very academic with an analytical side, but many of her hobbies outside of school involve being very creative. She's been playing piano for over five years and recently started learning guitar and painting. With the move to Canada, she's also embraced some common regional sports.
"While we are living in Dubai, there was not really much exposure to ice and snow, so mostly what she was doing there for sports was swimming and stuff like that," explains Olya. "When we came back here, all the kids were skiing and skating. They have an excellent program, so I suggested figure skating."
"I was like, let's go for it! You only live once!" adds Goldie.
With so many interests and hobbies, Goldie even used her coding knowledge to save a little time on her math homework.
"At the beginning of the year we were doing this fractions decimal unit with indices and my math teacher sent us four pages of homework. So I thought, why not take 10 minutes to make this little piece of code to help me solve the questions."
While many teens are pressured to worry about college and career, Goldie is focusing on experiencing as much as she can now and taking one day at a time.
"I'm kind of trying not to worry too much about the future that much, because if I get so obsessed about what will happen in the future, I'm gonna miss out on what's happening now. So I'm just trying to experience a lot, try out as many hobbies as possible, read a lot. But career-wise, as long as I have an opportunity to make a change and really work on something that would leave an impact, I think I'd like that."
Goldie's teacher, Jaures, loves her creative spirit with her projects and her mischievous sense of humor during class.
Goldie is a creative mastermind/troll! When she wasn't customizing her websites with crazy colors and anime backgrounds, she was finding creative ways to Rickroll the unsuspecting user!

Jaures Ade, CodeWizardsHQ Teacher
Goldie's Standout Projects:
At CodeWizardsHQ, Our Students Are Our Top Priority.
We are lucky to have Goldie and her family as a part of our community!
Interested in learning to code this summer?
See our summer classes and coding camps for kids.
Level up your child's learning experience. Take a coding class with CodeWizardsHQ:
Elementary School Coding Program, Middle School Coding Program, High School Coding Program