We live in the future. There's no denying it. Work is online, information is a tap away, and robots are becoming more commonplace than ever. You can find robots in manufacturing, hospitals, and retail. Current projections show that by 2030, the global stock of robots will reach 20 million.
What does this mean for the kids of today?
Technology is no longer an optional part of education. Engineering and programming knowledge is crucial for many jobs and helpful for most. Consequently, learning about robotics covers both of those topics.
Robotics for kids sets them up to excel in a technical field. More importantly, it teaches them skills that will help them succeed in any venture.
How do you explain robotics to kids?
So what is robotics? How should you explain robotics for kids?
First, let's define what a robot is. When you think of robots, you might imagine something like Wall-E: a mechanical being with human traits such as eyes or hands. But a robot is really just any complex machine that can help humans. For example, a mechanical arm that performs open-heart surgery is a robot.
A robot is a mechanical device that sometimes resembles a human and is capable of performing a variety of often complex human tasks on command or by being programmed in advance.
Robotics is the field of designing, building, and operating robots.
In simple terms, robotics is the field of designing, building, and operating robots. Even a simple robot needs to be programmed to learn from and react to the environment or at least move in a set sequence. Learning how to work with robots is a surefire way for kids to develop useful skills that will prepare them for careers in many fields.
From the hands-on design and construction of a robot to the computer science knowledge to program what it does, there's plenty of opportunity to hone practical abilities, especially for kids who are interested in STEM. And that's not even getting into the exciting applications of robots that might be developed in the future!
5 industries that are utilizing robotics today:
Health Care
Agriculture
Food Preparation
Manufacturing
Military
Common Types of Robots
The most common types of robots, according to Intel, are:
Autonomous Mobile Robots (AMRs). These robots can move through an environment autonomously without a guided path.
Automated Guided Vehicles (AGVs). These are a type of AMR that follow a specific path which can be marked by marked long lines or wires on the floor or use radio waves, vision cameras, magnets, or lasers for navigation.
Articulated Robots. These are robots with rotary joints that often resemble a human arm.
Humanoids. These are robots that resemble humans, sometimes called androids.
Cobots. These are collaborative robots that are intended for direct interaction with humans within a shared space.
Hybrids. These are robots constructed from organic and artificial materials, so it consists of both electronic and biological elements.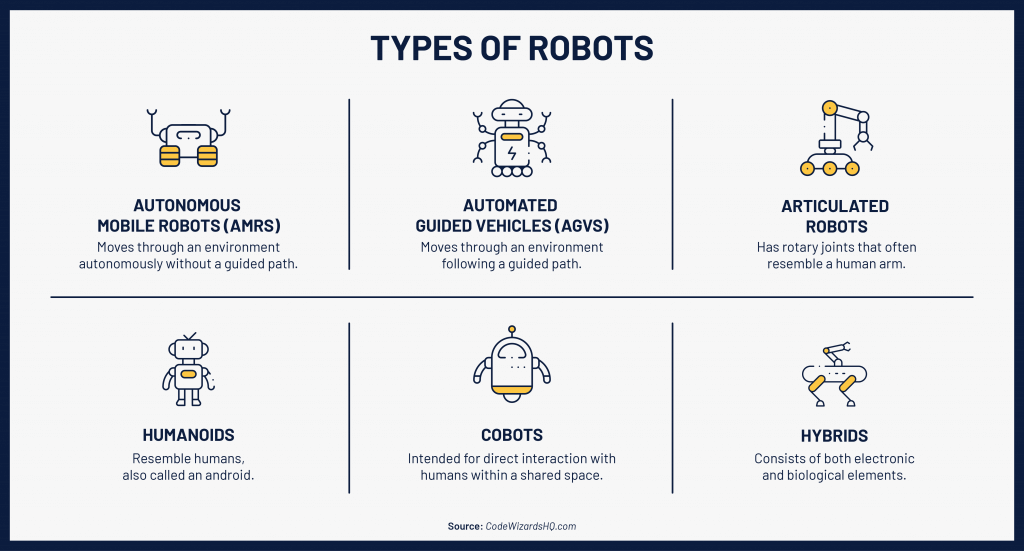 What age should kids start robotics?
Any kid who has the curiosity to learn about robotics can get involved in learning. With that in mind, the best age for kids to learn robotics engineering is 8 to 14.
By eight years old, most kids should have the motor skills necessary for the subject. Learning how to assemble or program a robot at a young age helps exercise their critical thinking abilities. It also hones creativity when it comes to problem-solving. Robotics for kids helps them form a better foundation in STEM.
Of course, teenagers also have fun and learn a lot by getting into robotics for teens. They are more likely to apply topics learned at school such as physics, engineering, or math to robotics, as opposed to acquiring that information through robotics. Understanding the practical application of academic subjects will help them become more well-rounded in the long run.
What are the benefits of robotics for kids?
Let's return to the definition of robotics for this one. Robotics is the study of designing, building, or operating a robot. There are multiple parts of a robot and robotics that students can focus on. Every robot requires a power source, controller, sensors (internal and external), actuators (like motors for movement), and computer code or software.
Because of the many parts of a robot, learning can encompass many fields. This makes robotics engineering a great gateway to other subject areas.
Fields within robotics:
Programming. Coding is a crucial component of controlling the actions or reactions of a robot. Robotics allows kids to gain hands-on experience with programming beyond a classroom environment. Programming a robot and watching it perform tasks in response helps any kid understand the power of coding.
Design. What's the most optimized build for a robot that needs to report on the weather? How about one that needs to avoid objects in a room while moving? Design is a major factor in creating a helpful robot. It will teach kids the importance of both form and function.
Engineering. The basics of mechanical and electrical engineering are crucial when it comes to robotics. Mechanical engineering focuses on structure, movement, and integrity. Electrical engineering is necessary for the electrical components that allow for control over the robot.
Applied Mathematics. Calculations are a major part of robotics engineering. This includes everything from creating formulas to taking measurements. No matter your child's math skills, they will improve through building a robot.
What's more, there are plenty of soft skills to be learned.
Robotics classes for kids can teach:
Problem-solving. Overcoming hurdles in the engineering process can be challenging. For example, building a robot requires solving many different problems. How does it move? What should it be controlled with? There are likely several answers to one question and your kid will become better at solving complex issues with practice.
Teamwork. Very few robots are built without teams. Putting their heads together and collaborating on a project like this can teach your kid to collaborate with others (and may even make them some long-lasting friendships).
Patience and Persistence. Nobody can create a perfect design or prototype from scratch. Robotics is all about iteration, persisting in tweaking a concept until it works.
Studying robotics will not only open up a whole world of knowledge to your child, but also give them tools that will help them succeed in any other field they might pick. After all, the ability to reason, collaborate, exploit design thinking, and iterate are skills that benefit anyone, regardless of field.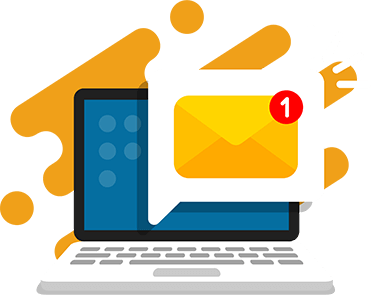 Get latest in kids coding
activities, news, and resources!
Newsletter Sign Up
"*" indicates required fields
How do you teach kids robotics?
Thankfully, there are plenty of options in robotics for kids.
Robotics Classes for Kids. Structured learning environments are a great option for many kids. A qualified instructor can guide learning, support students if they're struggling, and provide the right equipment for new engineers.
Robotics Clubs. Whether it's at school or part of an outside organization, a robotics club gets kids involved in projects for solid hands-on experience, fostering a teamwork environment. Clubs are also a way to join competitions against other schools or teams.
DIY Robotics Kits for Kids. Purchasing a robotics kit can jumpstart your kid's learning at home in their free time. If your child is a self-starter who learns well through hands-on experience, kits could be the beginning of their robotics engineering journey.
Ultimately, the best way to teach kids robotics depends on the kid. Robotic kits are a great way to test out how much your child enjoys working with robots at home, especially for younger kids who might not qualify for advanced robotics yet.
If they're older and ready to invest more time in larger projects or even competitions, clubs or courses might be the better way to go.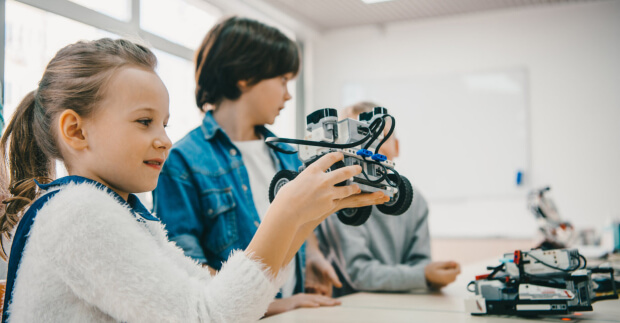 5 Robotics Kits for Kids & Beginners
Want to give your kid a sense of robotics before investing in classes or club activities? Here are some robotics kits for kids and beginners to start with.
With 601 pieces and 17 different possible robot designs to build, this Lego robot kit can talk, play games, shoot targets, and more. It's also fully compatible with other Lego construction sets if you want to get creative. The drag and drop coding interface should be intuitive for kids age 10 and up.
For space lovers, the Cosmos Kit has three different robot builds, complete with sensors, to inspire the imagination. You can program the robot via the Blockly coding platform, which allows for coding with Scratch, a common language for beginners. Jimu recommends this kit for ages 8-12.
Want a robot that won't break the bank? This kit provides detailed instructions along with motors, hands, googly eyes, and more that you need to put together an adorable robot on the move. All you need to add is the tin can. This is one of the more simple options in terms of robot capability, but it's great for anyone looking to gauge robotics interest on a budget. This robot is best for kids over the age of 9 or up.
Looking to practice building without too many bells and whistles? This robotic hand kit comes with detailed assembly instructions perfect for beginners, and the fingers grip when you pull the cords. It's an affordable option for trying out the building aspect if your kid loves to play hands-on. Recommended for ages 8 or up.
This remote control kit allows kids to practice building ten different motorized vehicles and machines. (Creative builders might be able to create even more!) It's notable for a unique infrared remote control that can control three motors at once, opening up the possibility for more complex multi-motor machines. Manufacturers recommend this kit for kids age 8 and up.
Start Learning Robotics for Kids
If you're looking for an activity that will hone your kid's problem-solving skills and teach them the foundations of mathematics, engineering, and programming, robotics is perfect.
Start with the coding side of robotics by learning Python. Check out CodeWizardsHQ's coding classes for kids, designed to provide kids with the tools, knowledge, and confidence to thrive in today's digital world.