Cameron Forsythe is an enterprising college senior who is not only a full-time student but also an accomplished coding teacher. Cameron's dedication to teaching students of all ages and his passion for programming make him an excellent example of our top-rated CodeWizardsHQ instructors and our March Spotlight.
Cameron's Coding Journey
Cameron couldn't wait to learn how to code. Inspired by popular movies, Cameron started teaching himself programming during high school through online resources.
"During icebreakers at the beginning of a class, I tell my students that I loved Ironman and The Social Network movies. They are both really inspiring, and they make you want to learn how to do anything with programming whether it's creating cool robots or billion-dollar social media apps."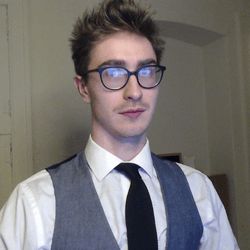 He became involved in the robotics team in high school where mentors who worked in the industry helped cultivate his coding knowledge. Cameron entered college at Indiana University with a firm foundation in programming and a desire to explore business. His interests later drew him to cybersecurity and this combination of classes will earn him a Bachelor's in Science and Arts in Humanities with a focus in Business and Technology. He's looking forward to a career in software development, software engineering, or data analysis. Cameron also mentions e-sports as an area that could combine several passions into a potential career.
A Passionate Instructor
Cameron's teaching experience runs deep. While in college, at the suggestion of a friend, Cameron applied for and obtained an undergraduate instructing position. He taught programming to students his own age and was the classroom's sole teacher. He found the experience very engaging and much different from being a student.
"I felt like I had a good balance between keeping the class on task and having a good time because coding is meant to be fun. It's fun teaching people who are passionate."
Cameron found CodeWizardsHQ last summer while searching for teaching opportunities and thought that the virtual nature of CodeWizardsHQ's classes would be a perfect fit for his college schedule. He now teaches all age groups including elementary, middle, and high school students. Cameron enjoys teaching all age groups but mentions that leading high school students through more complex content is very rewarding. HTML/CSS courses are his favorite. Ultimately though he loves working with students who actively seek challenges.
"I have some really creative students. One of my students does something extra every week for his homework. He'll also show me projects he and his dad work on in CodeWizards. He's just awesome."
Cameron cites his students' enthusiasm as his favorite thing about teaching kids. It reminds him of why he first started coding.
"When you first start coding it seems so out of the world that you could make a computer do what you want. When you make your first video game, even if it is a simple one in Scratch or Python, it feels so euphoric."
The CodeWizardsHQ Difference
Cameron has taught coding in college, public school, and virtual arenas. This gives him unique inside knowledge of best practices in the world of coding education.
"I haven't seen any other company with as much hands-on training for instructors. CodeWizardsHQ really cares if the students are truly getting a great experience and learning and that all the instructors are A-1. I'm a much more confident teacher than I was before. I've never received training the way I have here."
Hobbies and Family
When Cameron has free time in his daily schedule, he uses it to stay fit. Because he spends so much time behind a screen, he feels that it's important to make room for some form of cardio or weightlifting in his life every day. He also recently tried snowboarding.
Like many CodeWizardsHQ instructors and students, Cameron enjoys video games. He likes the added benefit of using them to socialize with friends who don't live close by. He also uses his love of video games to connect with students and often starts classes with icebreakers involving their favorite games.
When asked about programming influences in his life, he says that he didn't grow up with programmers. However more recently his dad has moved on from a military career to a profession in cybersecurity.
"I'm really proud of him and he has done well. He's inspiring."
It seems that the Forsythe family has embraced careers in technology, and it's even reflected in the naming of their family pet, a Siberian Husky called Cyber.
Best wishes to Cameron as he graduates this May and to all of our graduating instructors and students.