Roblox is a massive online platform where you can both play and create your own games, with no game development experience necessary!
It's so easy, I will show you how to make a Roblox game in only 15 minutes.
With some patience and creativity, anyone can make a Roblox game, including kids. Roblox provides its own easy-to-use game editor, called Roblox Studio, where games may be created without any coding skills.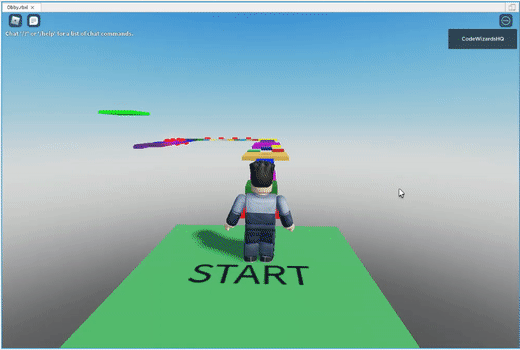 How to Make a Roblox Game
This tutorial shows kids how to create a game and enhance a premade template. It will teach them about the basic functions of Roblox studio, such as changing block colors, moving, scaling, and rotating those blocks as well.
By the end of this tutorial, you will have a simple Obby to play. You can even make your Obby public for others to play.
10 Steps to Make a Simple and Fun Roblox Game:
Download and Launch Roblox Studio
Explore the list of templates
Select the "Obby" template
Explore the game workspace
Give the Obby color
Resize some of the blocks
Change the speed of some obstacles
Develop player-harming obstacles
Enhance the appearance of an obstacle
Test your game!
Step 1 – Download and Launch Roblox Studio
We'll be using Roblox Studio for this tutorial. If you don't have the editor, you can download it here.
Launch Roblox Studio on your computer.

Step 2 – Explore the List of Templates
Click on the "New" tab when Roblox Studio is open. You will see an option at the top for "All Templates".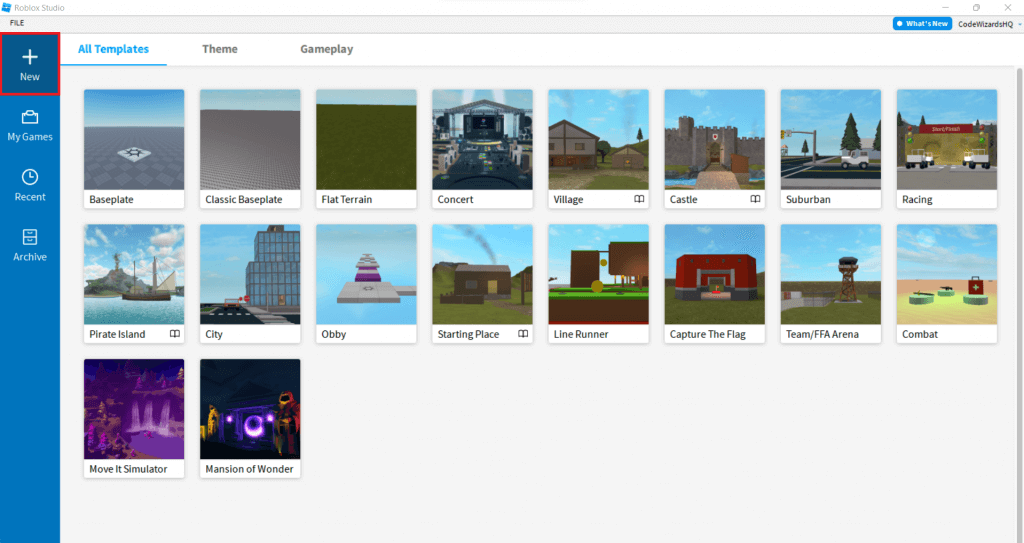 Step 3 – Select the "Obby" Template
From the list of templates, click to select "Obby" and wait for the game to load.
Each template is a pre-made world that you can use as a base for your own games.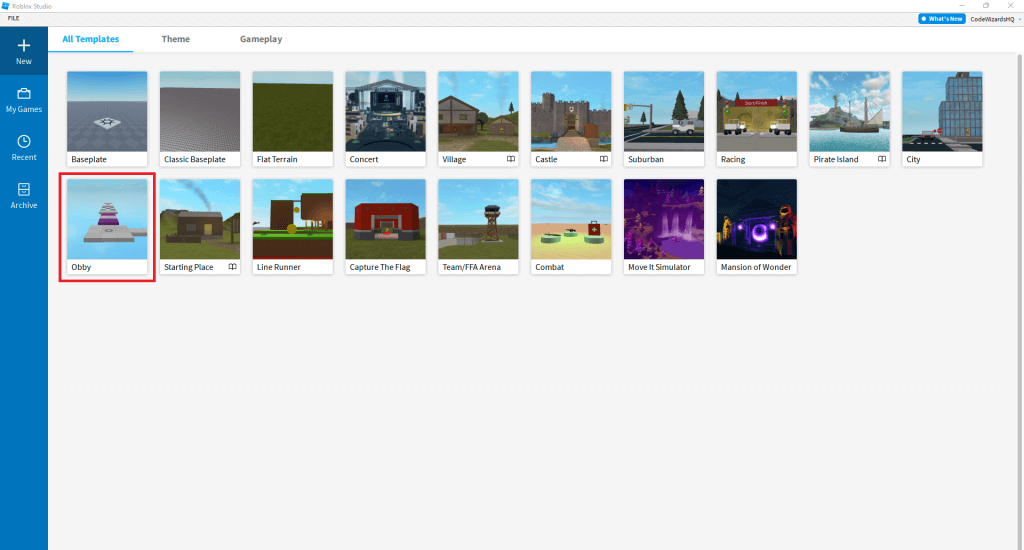 Step 4 – Explore the Game Workspace
You should see a big green block that says "Start". This is where the player will spawn when they start the game. Use the WASD keys and your mouse to move your player around.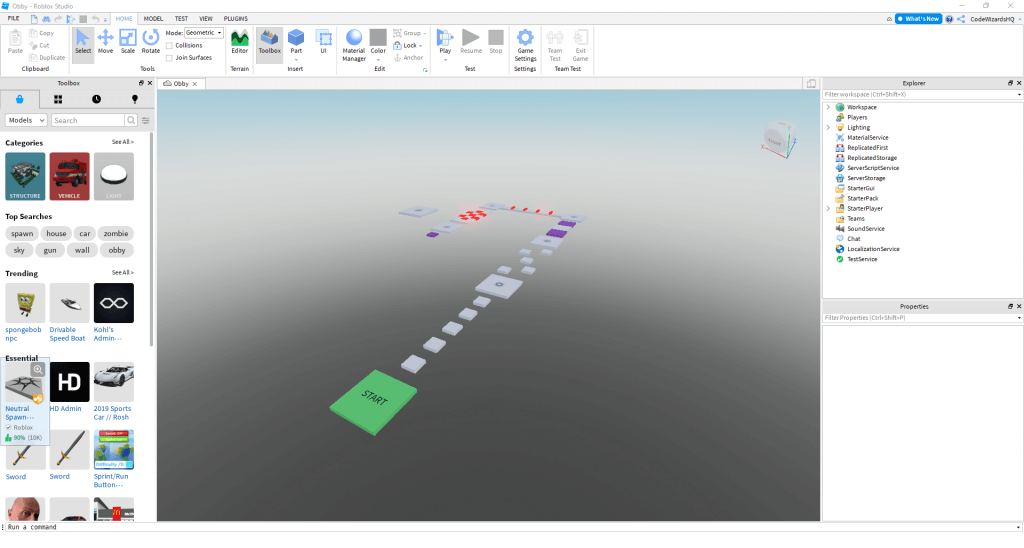 Step 5 – Give the Obby Color
Next, personalize your game with custom colors. Click on one of the gray blocks after the green "Start" block.
In the "Home" Tab, select "Color" and a drop-down box will appear. Click on a color of your choice for the block. Then, repeat this for as many blocks as you want afterwards.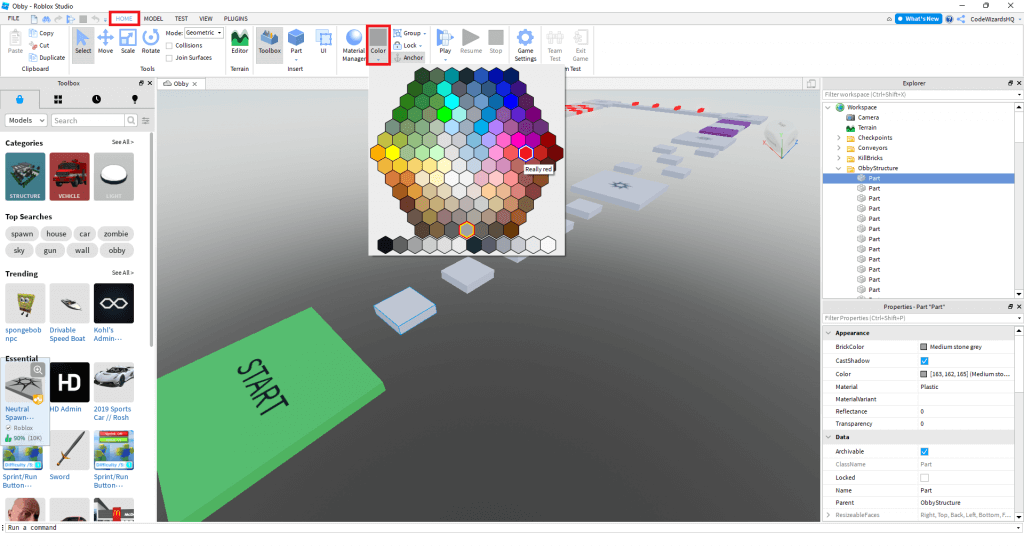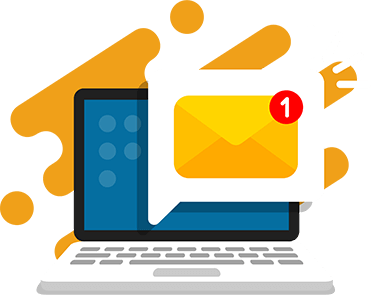 Get latest in kids coding
activities, news, and resources!
Newsletter Sign Up
"*" indicates required fields
Step 6 – Resize and Move Some of The Blocks
To make it more difficult, make some blocks smaller and change their position.
Go to the blocks after the next spawn point, the block with the blue star. In the Home tab, next to the "Select" tool, use the "Scale" tool to decrease the size. Then, use the "Move" tool to position these blocks however you want.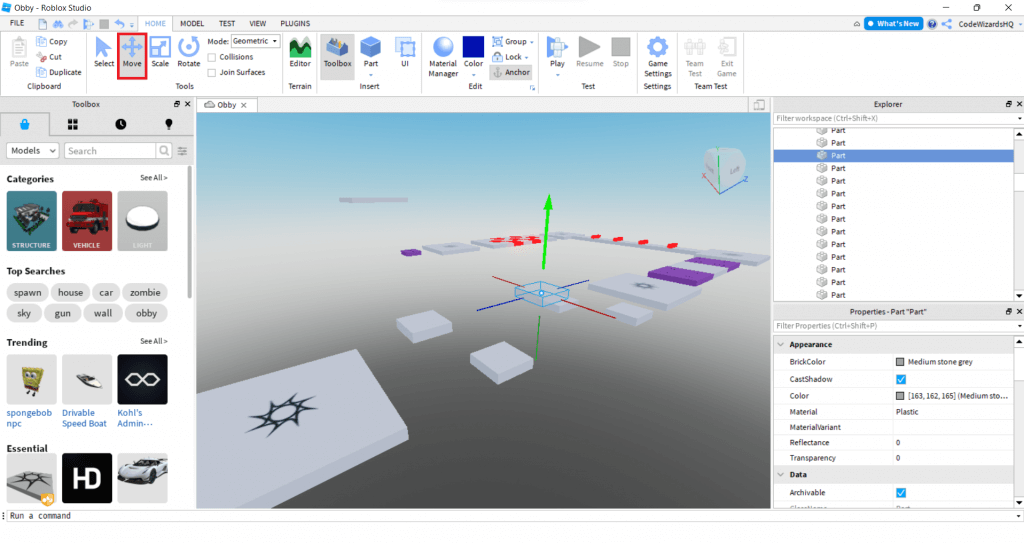 Step 7 – Change The Speed of Some Obstacles
After the next spawn point, you will see some purple blocks. These are called conveyors and they push the player in different directions.
Click on a purple block, look in the explorer window, and click the drop down option. Then, drop down the "Configuration" folder, and click on "Speed". Change the value to either speed up the conveyor or slow it down. You can do this for as many conveyors as you'd like.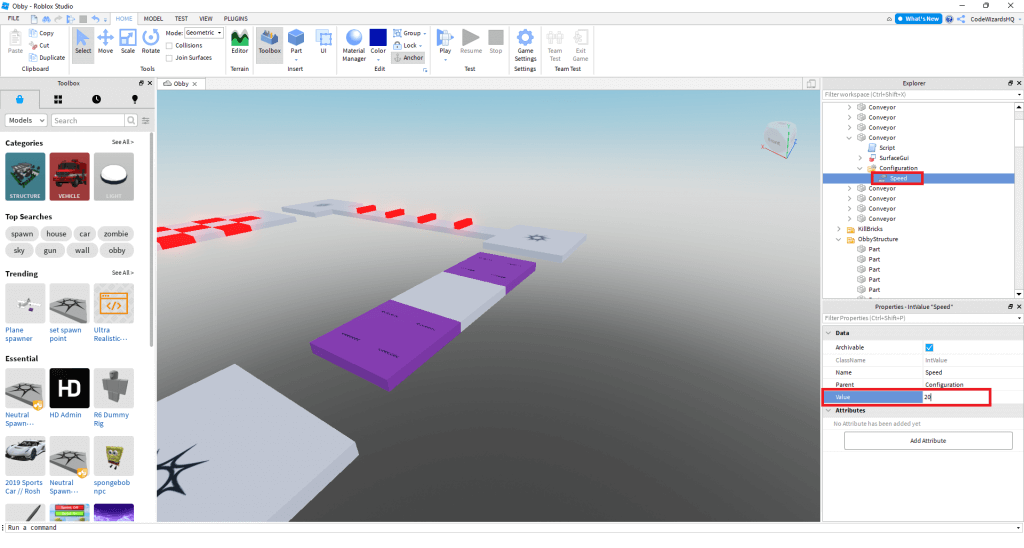 Step 8 – Develop Player-Harming Obstacles
These red blocks harm the player when the game is played.
In the next section of blocks, use the "Scale" tool from the Home tab and make the red blocks bigger or smaller. You can also use the "Move" tool again to reposition them how you'd like.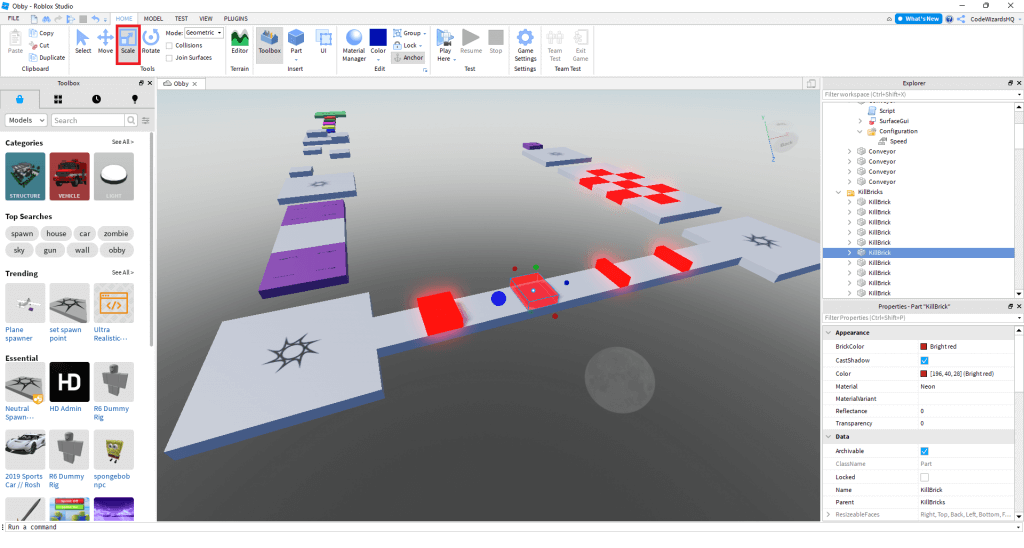 Step 9 – Tilt An Obstacle
In the next section of blocks, use the "Rotate" tool to rotate some of the blocks in this obstacle. Click and drag the blue circle to make the blocks have different vertical rotations.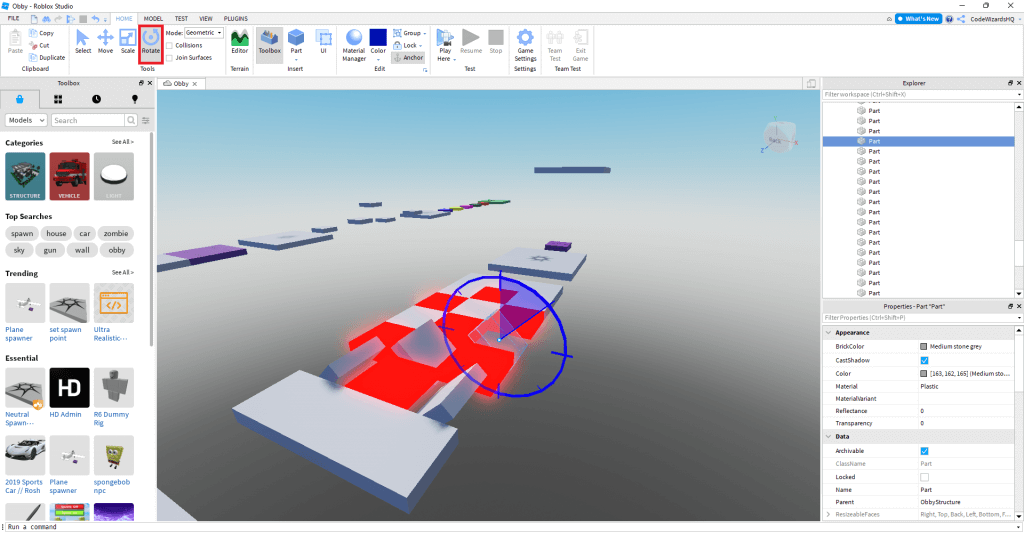 Step 10 – Test Your Game
Once you've updated the template with new obstacles and designs, you're ready to test your game.
Test your game by pressing the blue "Play" button at the top of your screen.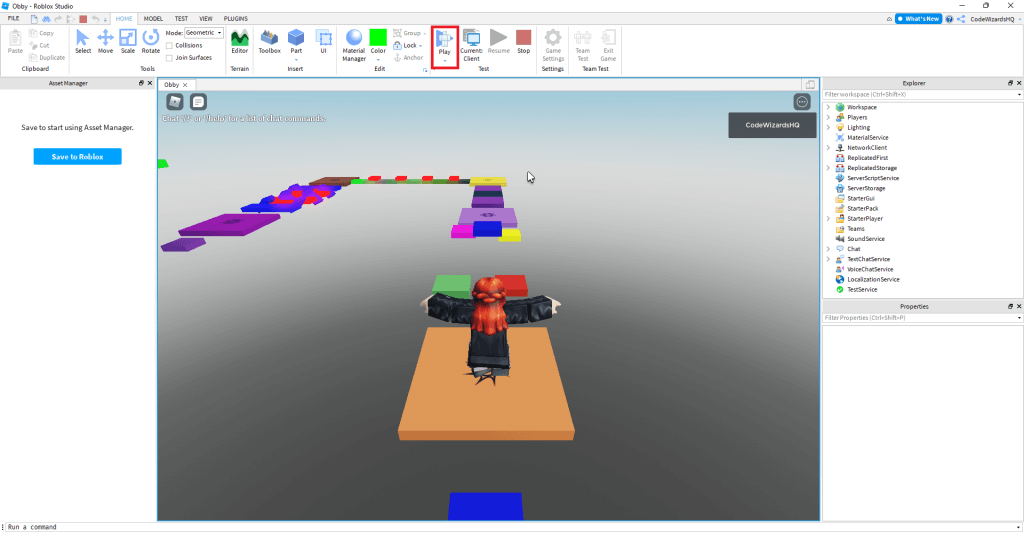 In only 15 minutes, you've created your own Roblox obby. Great job!
You can also play my completed 15 minute Obby game.
How to make a game public on roblox?
When you're ready to share your game with the world, you can make it public on Roblox.
In the editor, click on "File" on the top left-hand corner of the screen. There you will see the option, "Publish to Roblox" in the menu.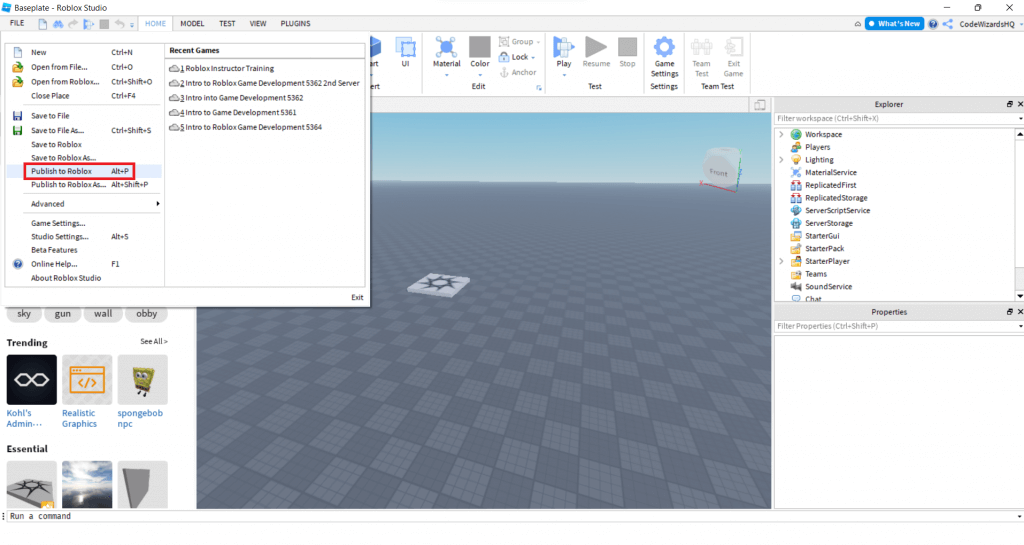 Then, a pop-up menu will appear where you can give your game a name and description. When you're done with this, you can click the blue "Create" button.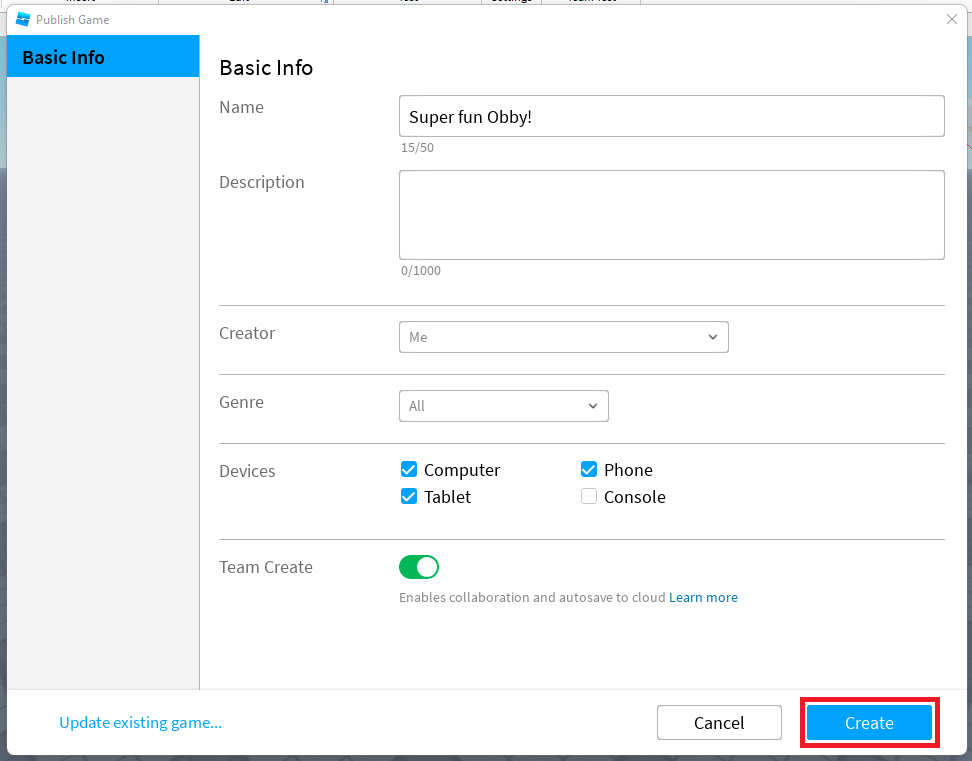 Congrats, your game is now published on Roblox!
Beginner Roblox Game Ideas
Kids can practice building any game they can imagine. With more time and practice, they'll be able to build more advanced, larger games. If you need inspiration, try one of these beginner Roblox game ideas.
Zombie survival game – Players have to gather supplies and survive a zombie apocalypse
Paintball team battle – players spawn on two different sides of a playing field and have to hit the other players with paintballs
Wacky race – where players have to avoid obstacles and enemies while racing
Pirate ship battle – Battle pirate ships by shooting water cannons at them.
Build a base Tycoon – Allow players to build a base to defend against monsters by earning money and upgrading parts of their base.
Superhero wars – Players choose their own superpower and battle others
Town simulator – Players can live in a town where they work to earn money, can buy a house, car, etc.
Haunted Obby – An obstacle course game where players have to not only do some parkour, but also avoid ghosts.
The next time you have 15 minutes free, I encourage you to make your own Roblox game!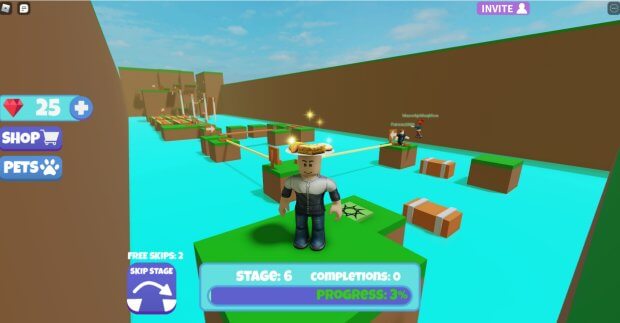 Is it easy to make a Roblox game?
It's relatively easy to make a Roblox game and share it. Kids can start making simple Roblox games in only a few minutes.
Depending on the complexity of the game, it can take anywhere from just 15 minutes to months to make a Roblox game. To build more advanced games, it will require some level of coding in Roblox Lua. Lua is a scripting language that can be integrated into other programs written in mainly C and C++.
Roblox Studio is beginner friendly, allowing kids to drag and drop elements into their game, import models, add effects, and more. However, more complex games, such as Adopt Me and Brookhaven RP, have taken it a step further with the capability to build a custom home, get a job, play mini games, and more.
How much does it cost to make a roblox game?
Making Roblox games is completely free. Using the Roblox Studio Software, kids can create and publish their own games to Roblox without any associated costs.
How much do Roblox games make?
Roblox games are big business. In 2021, gaming company Roblox Corporation generated a total revenue of over 1.9 billion U.S. dollars and it currently has 43.2 million daily active users. Kids especially love this fun and simple game platform as 67% of Roblox users are under 16.
It's likely that your child is already playing Roblox, but programming Roblox games is also very lucrative. As of Jun 30, 2022, the average annual pay for a Roblox Developer in the United States is $90,289 a year.
Code Games in Roblox Camp
Kids can start making Roblox games on their own. For kids who want to advance their game development, CodeWizardsHQ offers a 1-week Roblox camp during the summer.
Students will gain a fundamental understanding of game development on the Roblox Studio platform.
In just 1-week, students will have the ability to add elements into their game such as obstacles, moving parts, and incorporate their own designs. Additionally, they will gain fundamental knowledge of writing scripts in the Lua programming language to better customize their game experience.
Learn more about Roblox camp and join us!