Meet Riley, who is learning to code at CodeWizardsHQ and using that to stay connected with friends. His creativity and passion for coding have led him to be our Student of the Month!
"The fact that the teacher and Riley have a great relationship and she has sparked his interest in the topic by keeping the lessons encouraging and challenging."

– Riley's Parents
Getting together with friends while playing and creating games has always been one of 7th grader Riley Herchert's favorite things to do. So, it's no surprise that when COVID-19 restrictions on socializing took effect across America, Riley—like so many kids his age–was feeling restless.
Talking on the phone helped him stay in touch with his friends, but it didn't fulfill his passion to explore ideas and make use of his creativity in a tangible way.
During one of his phone conversations, Riley learned that some of his friends were learning to code, and they were creating exciting projects and solving problems. It didn't take long before he realized that coding could be what he was looking for.
He talked with his parents, and, after some discussion, they agreed to set him up with his own computer and enroll him in a CodeWizardsHQ program.
"Coding has been one of the online activities my friends and I can do together. It has been a great way to socialize and learn at the same time," says Riley. "I still keep up with lots of other activities, but coding is fun."
Riley says one of his favorite CodeWizardsHQ projects is a virtual reality experience. "I just completed the Capstone VR game project. I really enjoyed customizing it and making it look cool and interesting."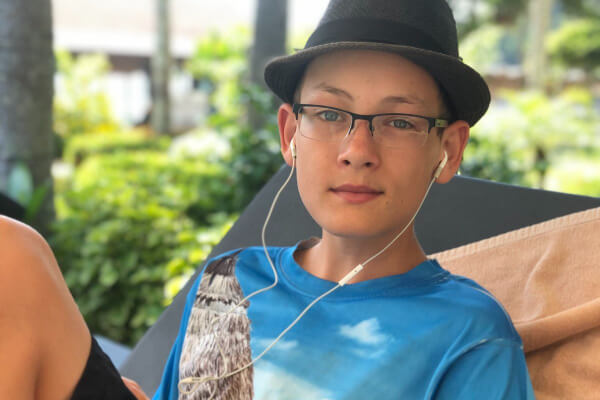 What he especially likes about his teacher, Lynn Schirmer, is that she motivates him to do his best. "She has industry experience and is super nice and encouraging, and she challenges me to go above and beyond," he says.
Riley revels in taking on more complex projects. "The hardest thing is actually limiting the time that I spend coding," he admits. "It is fun, but I realize screen time in moderations is a good idea."
Riley's parents, who initially had questions about his request to learn coding, are now glad they agreed.
"We think it is important for kids to pursue their interests and passions, and that just happens to be coding for Riley. We do think coding could be a great life skill, and we're pleased that Riley enjoys it. He has found something he is passionate about, which we are grateful for. He always looks forward to class and doing the assignments in advance." says his mom.
"Our son and his friend have started their own website with games and projects they have coded. Every time they finish a new project, they add it to the site. It is amazing how fast it grows and the variety of projects they have come up with. The site is hdprojects.dev."
His mom, Anne, says she would recommend CodeWizardsHQ to other families because Riley is benefiting so much from the classes, learning new skills, and collaborating with other students, which is important right now when kids are homebound. His teacher is encouraging and keeps the lessons fun but challenging.
Riley plans to pursue a career in coding someday, but for now, he enjoys discovering as much as he can and progressing "above and beyond" his previous expectations. "I like that you have the freedom to create your own projects while learning new skills," says Riley.
Riley and his parents have discovered that a major benefit of learning to code is flexibility. Students can create projects working on their own or working on a team, even during these days of social distancing.
Here is what Riley's Teacher, Lynn, had to say about him:
If there were such a thing as a natural talent for programming, Riley has it. Whenever we have a new concept to tackle, he just gets it. He learns and works at a lightening fast pace. In a short 9 months, Riley has completed nearly all of our curriculum. This spring and summer, we had to maneuver a bit to find enough for him to do. He was completing up to 4 projects per week, two of them entirely on his own initiative. Riley works hard and says he loves to code, which is quite evident when he's working on a project. It's a joy to share the excitement and wonder of code with him. I can't wait to see what he'll accomplish next.

Lynn Schirmer, CodeWizardsHQ Teacher
Riley's Standout Projects:
At CodeWizardsHQ, Our Students Are Our Top Priority.
We are lucky to have Riley and his family as a part of our community!
Interested in learning to code this summer?
See our summer classes and coding camps for kids.
Level up your child's learning experience. Take a coding class with CodeWizardsHQ:
Elementary School Coding Program, Middle School Coding Program, High School Coding Program