Meet Brian, who is learning to code at CodeWizardsHQ. His creative ideas and eye for design have led him to be our Student of the Month!
Brian Lee loves new ideas. What he loves even more is bringing these ideas to life. And that, Brian says, is why he finds coding so engaging.
Brian finds that coming up with ideas for coding projects comes naturally for him.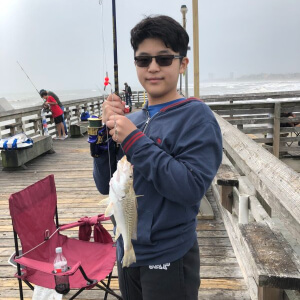 "In the future, I want to use my coding skills to make tools for calculating certain equations. This is because, in my experience on the internet, whenever I'm trying to calculate something, there is always one missing tool that I need. I plan to try to fill that void to a certain extent.
"The hardest thing for me about coding is troubleshooting, since I have to sift through hundreds of lines of code to find a small mistake.
Brian, who was introduced to programming by a friend, finds that coding has helped him learn about teamwork. "Collaborative programming made me get to know my teammates," he says, adding that and it showed him the value of learning from others.
"I enjoy the testing and revision process the most. This is because we get to really control how the final product looks and functions.
Brian's mom, Michelle, discovered CodeWizardsHQ when searching for an after-school program at his middle school. "Coding is something Brian really likes. He wants to study computers and technology in college, and the classes can help him choose his major. I hope that he continues to learn and enjoy coding, and that he gets a job related to computers in the future. Coding is an important skill in the current job market, and I believe it will be in higher demand in the future." Michelle says.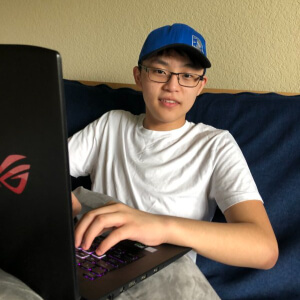 One thing Michelle likes about CodeWizardsHQ is that the courses are 100% online so Brian can take classes anywhere, and can progress as he learns more. The school offers programs for students of all levels, for those with no previous coding experience to those looking for advanced training. Michelle says she is impressed with the breadth and depth of the curriculum, which covers algorithms and many languages, such as Python, JavaScript, and the most recent version of HTML.
What is especially important to Michelle is the knowledge and compassion of the teachers. She recalls a time when a class was about to end, but Brian hadn't quite finished his project. "His teacher, Ms. Lynn, stayed after class to help my son finish," she says. "I appreciate Ms. Lynn's efforts and passion toward her students."
Perhaps what matters most to Michelle is knowing that Brian is doing something he loves and something that allows him to express his talents and develop self-confidence.
"My favorite project is probably the story project," says Brian. This is because it was my first taste of having full control over the outcome, which allowed me to create something that I could really call my own.
Here is what Brian's Teacher, Lynn, had to say about him:
Brian is a creative, independent thinker and problem solver. He's got an eye for design and a quick wit. He's had me in stitches at times with his custom additions to homework projects. He tackles each new concept and project in his own way. He is going to be one of those folks who breaks barriers or comes up with a new concept that changes everything.

Lynn Schirmer, CodeWizardsHQ Teacher
Brian's Standout Projects:
At CodeWizardsHQ, Our Students Are Our Top Priority.
We are lucky to have Brian and his family as a part of our community!
Interested in learning to code this summer?
See our summer classes and coding camps for kids.
Level up your child's learning experience. Take a coding class with CodeWizardsHQ:
Elementary School Coding Program, Middle School Coding Program, High School Coding Program